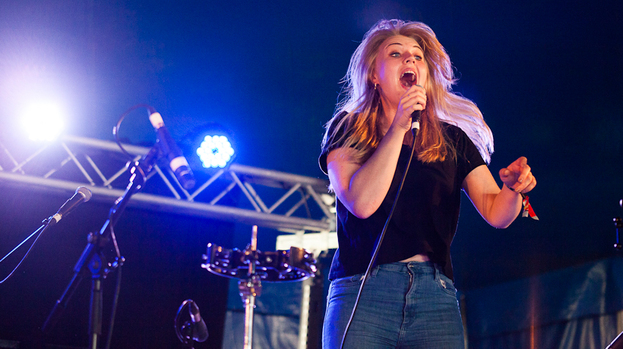 Anyone who has seen Slow Club's latest video, featuring the boy wizard, Daniel Radcliffe, might have been expecting some magic from their set today. Those dastardly Harry Potter fans were not to be disappointed.
Doubling in size for their live shows, the gruesome twosome became four for the most part of their set, as they leaped from instrument to instrument, sculpting their wholesome quirky brand of charismatic folk-pop. Brandishing fast favourites from their two albums, more senior tracks, such as Our Most Brilliant Friends, had the crowd rollocking along, the band full of comradery after a two day travel to reach fans this evening.
Sheffield two-piece, Charles and Rebecca, reverted back to their native form for the stunning boy-girl harmonies of Hackney Marsh. Part of their soulful side which showed beauty to equal their brawl-inducing bound, the split-personality set mixed fun and games with forlorn in true audio turmoil.
New tracks really showcased northerner Rebecca in all her glory, her soulful vocal roaming through the tent and grasping for the attention of the rowdy crowd. Believable in her lyrical delivery, and switching into banter by the barrowload between tracks, it's clear to see who keeps the boys on their toes in this band.
Two Cousins showed the quirky four-some at their most mainstream, with syncopated beats and power vocals to sing along to, before set closer Giving Up On Love. With Rebecca taking to the drums on foot, and Charles assisting with the rapid strum of the runaway track, the duo built up to tops off and communal clapping from their crowd, before being joined by the rest of the band for a beautifully shambolic race to the finish line.
Slow Club are a delight on record, and an even greater delight live, where they can exude their honest charm in the delivery of their nurturing records.
People who read this story also read