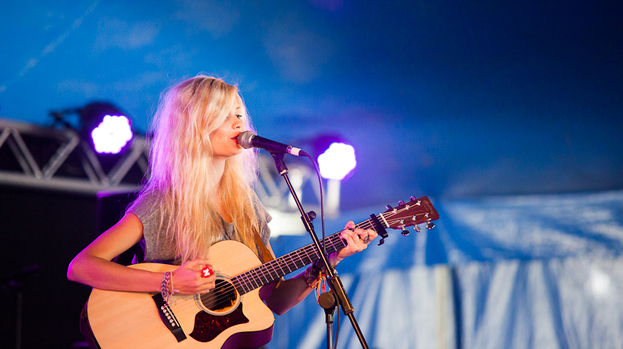 Bringing music to the Garden Stage's ears as they basked in the radiating sun, Vintage Trouble frontman, Ty Taylor, surprised the early evening crowd as he weaved his way through them to take to his place centre stage.
With smooth vocals and super slick backing, the four-piece got the crowd booty shaking with their old school brand of soul, rhythm n blues.
With Chuck Berryesque guitar solos, Buddy Rich drums, and cool points tallying exponentially, the four piece party-starters from California had the mixed crowd twisting, regardless of general musical preference.
Bringing sounds of the past to the present, brimming with bottled showmanship, Vintage Trouble crafted a time capsule to get your groove on like your granny used to. No wonder everyone's needing joint replacements these days, as the groove just keeps on going.
Just a hop, skip and a jump away in the Black Isle Brewery Grassroots Stage, the fledgling performance from Nina Nesbitt hosted an ecstatic crowd that packed the tent with superstar enthusiasm.
Fast on her way to much larger audiences, the YouTube pop star has found a friend in trendy ginger, (if those exist), Ed Sheeran. After opening shows for Ed and Example she seems to be building up quite the fan base of her own, with most of the younger festival participants packed in and fighting for front row, as the petite eighteen year old took to the stage with only her acoustic guitar for company.
With a fragility to her set, and girl-next-door chat between tracks, the care-free singer songwriter relies more on her likability than any one-of-a-kind talent, though it works for the time being, and continues to raise her profile.
Recent download hit The Apple Tree took her set to a climatic end, with the whimsical blonde telling fans to meet her outside for a post-gig chat if they liked. From the stampede and queue longer than the total summation of all the toilet queues on site tonight, it's that sort of behaviour that will see her continuing to grow and grow. I'm not sure about the nice guys, but it seems the nice girls certainly don't finish last.
People who read this story also read