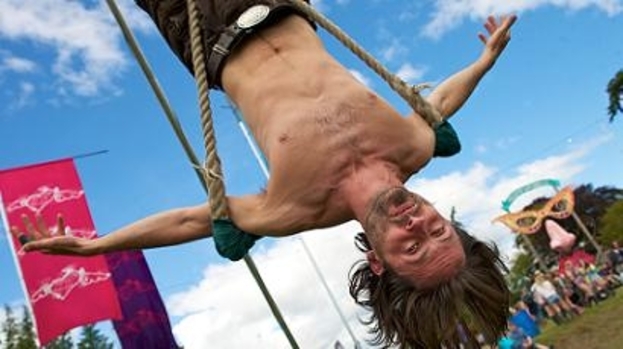 Belladrum is the gem in the final crowning glory of Scottish festival season, and this weekend, will bring a whole host of talent from our homeland, and far far away, to the picturesque setting of Inverness-shire's Beauly.
Truly worth the wait, the family affair has all the charm and character of the Highlands, with a star-studded line-up, for a one of a kind weekend experience. Powered by the fast-paced pulse of its own Tartan Heart, the festival has a continuous supply of quirky adventures hidden in the tents and woodland that surround its stages, meaning you're never more than a few footsteps away from another discovery.
A big hit last year, and back with style, class and more sass than Janice Dickinson, Ciao Bella, presented by our very own Laura Boyd, will be strutting across the field, making stilettos from wellies. This big top will be home to regular runway shows across the weekend, as well as searching for the next body and bone structure of Belladrum, in this year's Face of Bella contest. If last year was anything to go by, those in favour of a ripped torso should be in luck, and I do believe it was a firm favourite of the fashion conscious little princesses amongst the campers as well, oh yes, and their Dads- obviously only there to provide the parental supervision…
Let's hope there's no repeat of July's Great Bog of Balado when Travis take to their headline slot on Saturday, but before then, there's a lot to cram in to your two days, never mind the food vans bulging with local produce. The perfect location to discover the next big thing, the heart quenching tales of Slow Club will enrich Friday, as well as upcoming London lads, Too Many T's, who are set to unleash their face stretching brand of boisterous rap, in a one off performance accompanied by an 8-piece folk band. Grown closer to home, the melodic and incredibly satisfying pop rock of Make Sparks should ignite the party, whilst the bewitching Rachel Sermanni should soothe any early alcohol relate illness.
Saturday hosts Frightened Rabbit, who are fast becoming our latest brand of Scottish super-group, for the biggest campfire sing song without the flames. An artist full of sing along potential, but with big enough lungs for a crowd, Karima Francis brings gutsy sincerity to Belladrum. For fans of the female singer songwriter, she could be the perfect, and slightly edgier, replacement for Adele's current status on maternity leave. A homegrown act that must not be missed, comes from the phenomenal Stanley Odd, a talent collective sure to get the tent bouncing with their banging beats, upbeat lyrics and overall charm.
Not forgetting the unexpected, there's a surprise guest set to take to the stage on Friday, and to date, after much pestering, we're still not any closer to discovering just who that might be. Keeping in with the hidden quirks of the Belladrum spirit, there's a great weekend waiting in Beauly, and that's just the parts that we're aware of, never mind what other magic it has hiding up its sleeve (as long as that's not the sleeve of a cagoule).
Bring on Belladrum, we'll be reporting back on all the best bits of the brilliant boutique festival, and we can't wait.