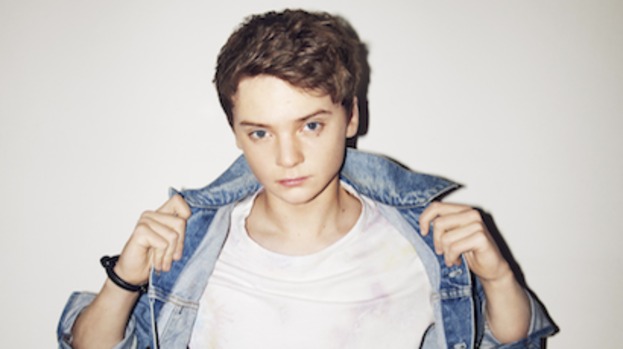 Exceeding the height restriction by approximately a foot, (that's 30.4 centimetres youngsters), I joined Conor Maynard fans who were out in full force for his descent on the capital last night.
Playing to a less than sold-out crowd at Edinburgh's Liquid Rooms, the UK's supposed answer to Justin Bieber had fans onboard to start a fever of his own- Conor commotion just doesn't have the same ring to it.
With a DJ hyping the crowd up, I quickly found myself being referred to as a 'Mayniac', wasn't I lucky... With bratty beats keeping the deposits of Schools Out for summer occupied until their current crush hit the stage, the Vegas Girls (and a few boys) were full of voice well before the petite pop star bopped onto the stage.
Screams turned the opening track into a mime for the first 30 seconds, catalysed by the 19-year-old bounding onto the stage, on this, the second night of his tour. Having only released two singles thus far in the early stages of career, and with his album due to drop this Monday, I'm not sure of the name of this start up song, but there was enough counting in it, to serve as a graduation from Sesame Street for the younger audience.
With a Justin Timberlake element to the performance, though none of his dancing abilities, Maynard worked the crowd into Vegas Girl backed by his band, a 4-piece musical stronghold.
The youngster has a certain likability and between tracks, bashfully blurts to his adoring fans, but aside from his personality and some puppy dog packaging, his voice isn't as good as it would like to be, and often gets lost on his ornamental leaps into badly tuned falsetto. Covering Drake's version of Take Care, with no mention of the original, the cover of a cover actually allowed him to display his vocal in much better form, becoming a set highlight. I'm still wondering if that was maybe because he stood still for this track, and stopped busting his incredibly awkward moves.
Casually throwing in tracks co-written with Pharrell and Ne-Yo, Maynard got the crowd jumping, and I have no doubt his debut album, Contrast, will invade charts and ears to questionable sanity levels, but from time to time, it seems there's a lack of hooks and chorus in his work, making less effective pop less infective.
Closing his forty-five minute set with debut single, Can't Say No, accompanied by the pumped up bass dirge of chart-friendly dubstep, the Brighton boy had the girls screaming all over again- here's hoping there's a lot of lost voices today, so the parents don't have to listen to countless reiterations of the set.
Conor Maynard played a swift set that got a young crowd hyped quicker than a big bag of wine gums, and he's quite clearly found himself a lot of celebrity friends, though I can't help but wonder what all the fuss is about? With a few tricks to learn before his Andrex puppy effect wears off, Maynard has a bit to go before his career can really Take Off.
People who read this story also read