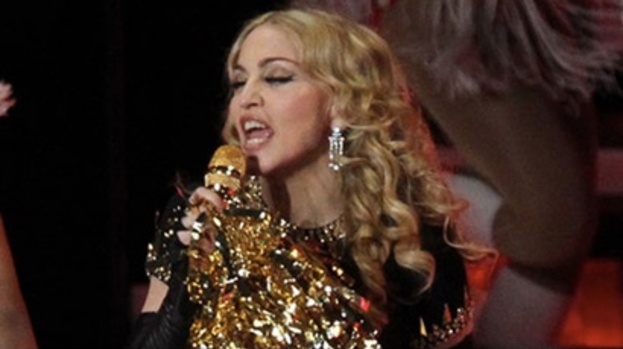 Review: Elaine Downs
When Madonna's juggernaut of a world tour swings into town, the fans don't come out for a pleasant musical evening; they come for a show.
Even for those of us who feel the focus has been lost -- after all, surely it's the music that's important -- the scale of the show brought to us by Cirque du Soleil's Michael Laprise leaves us in no doubt that a world-class phenomenon is among us.
Madonna performs the show she wants and unlike fellow long servers Bon Jovi doesn't open the show with the familiar favourites the fans might expect, but what she wants them to hear. This might well be the secret to her unswerving single-minded global domination of pop music throughout living memory.
Slightly too heavy-handed with the religious imagery, she bursts out of a confessional, bizarrely brandishing a fake assault rifle. The opening song, "Girl Gone Wild", with its insistent electro-dance beats, set the uncompromising tone. From this year's album release MDNA, this promised a scorching and unapologetic set and not a cosy nostalgic celebration of her many years of pop perfection which might be hoped for by the many neon tutu and pink sparkly cowboy-hat wearing fans.
"Girl Gone Wild" was closely followed by "Revolver" and "Gang Bang" which was stage set as a motel room during which she was portrayed waving fake handguns around with her similarly armed sisters, evidently relishing the opportunity to "shoot her lover in the head". During a weekend when a cinema in Colorado suffered multiple killings as the result of a random shooting, I found the American's glamorization of guns bemusing and uncomfortable, and even ridiculous. The violence of the imagery seemed an ill-fit for a 53-year-old mother but Madonna has never in her extensive career done anything that's conventional.
The mood mercifully lightened for old-school "Papa Don't Preach" that had the Murrayfield crowd belting out the chorus; the fans seemed happy and relieved that the level of pretension had dropped a few notches. The dancing carried on with "Hung Up" which reminded us of her talent for feel-good pop, although the Cirque du Soleil style tightrope work and choreographed manhandling of a chained-up Madge left her barely any breath to sing. This meant the vocals were either recorded or woefully inadequate.
But just as the show was in danger of becoming pure pantomime devoid of any musical merit she redeemed herself with "I Don't Give A" from MDNA. After decades in the business she is still savvy enough to seek out the current talent, and although MDNA is boosted by the tried and tested talents of William Orbit she also ropes in current dance darling Martin Solveig. His influence was best shown in "I Don't Give A" and "Turn Up the Radio" from MDNA.
The unforgettable pointy bra dreamed up by John Paul Gaultier was reincarnated for "Vogue", reinforcing the point that she has been master of avant-garde stage costume long before Lady Gaga was even heard of. "Vogue" was saucy and stylish and had the whole crowd dancing. New mixes of "Like a Prayer" and "Celebration" were full-on fun that had the whole of Murrayfield Stadium bouncing and left the crowd euphoric.
She left Murrayfield in no doubt that in the fickle world of pop she is a force of nature, a storm that might have lost some of its power, but shows no sign of abating any time soon.
People who read this story also read