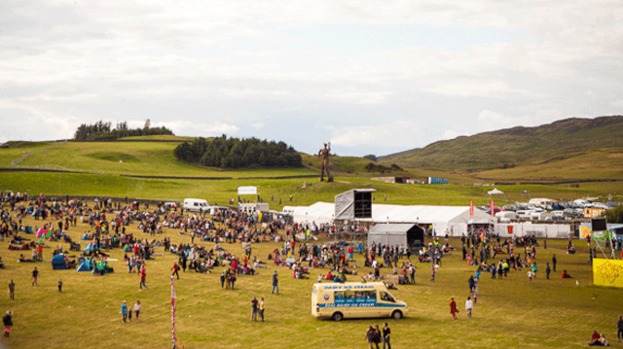 It's that time of the festival where it's hard to find too many other words not already repeatedly reused to say that Martin John Henry really is very good indeed.
In summation the singer-songwriter and his band are a superior sort of Scottish indie, their songs expertly constructed and engaging throughout. (His material instantly worth locating, given that you have the resources at your fingertips this very second...)
Elsewhere, Artmagic deserve a bigger stage than the one the Acoustic Tent provides, a magisterial ear for pop consummately delivered, and utterly grand in a most welcome of ways.
Apparently their first festival gig, newcomers may be unaware of the connections (the duo comprised of Suede member Richard Oakes and Sean McGhee, who's written for the likes of Britney Spears and Robyn), but there's a mastery of their craft that shines through their set.
Meanwhile Mair are just as joyous for markedly different reasons, their no-holds-barred metal a welcome standout from those other more sedate acts who dominate the line-up, the bassist using a wireless receiver to ensure she can maraud the front of the tent and encourage a healthy amount of headbanging.
Newton Faulker provides another welcome counterpoint on the main Summerisle Stage, his rendition of Teardrop appropriately haunting before he plays some tracks from his newest album, able to entrance while remaining a solo bearded, dreaded master of proceedings.
One of those surprise chart mainstays who became popular through talent rather than connections, he's a fitting and engaging presence on the Summerisle Stage.
People who read this story also read