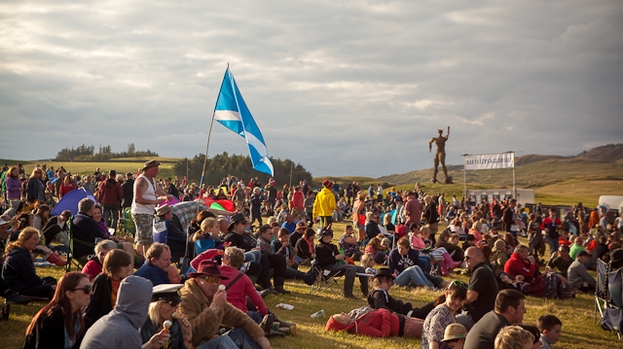 After the joys of Friday some time had to be allowed to recover to partake again in festivities, but with a variety of entertainment on offer there was no shortage of talent to take in – much of it upcoming Scottish talent.
Thankfully the sun was again out, meaning that taking in the likes of bike displays and other non-musical displays were taking in the attention of a healthy Saturday crowd.
And there was also plenty of artists spread across its 10 or so stages, the likes of the Horndog Brass Band always likely to enrapture those unfamiliar with their grin-inducing joys.
I managed to catch a brief but welcome glimpse of John Wean's infectious punk-pop as they finish their set in a well populated goNORTH Tent, the group's set obviously having done a damned good job of holding the crowd's attention. (Most definitely a band to catch more fully the next time in town.)
There Will Be Fireworks were next door in the Solus Tent, scraping skies with the sort of massive-sounding indie anthemry that follows on nicely in the lineage of Admiral Fallow and Frightened Rabbit.
Following on, Hector Bizerk set fluent and compelling Scottish rap against the sort of live instrumentation that doesn't overpower but allows for an enthusiastic crowd response, keyboards squirling as lolloping bass riffs provides provides a groove for the audience to latch on to.
With that the afternoon continued on, the likes of Blowjangles playing within the festival area and allowing some of the very, very young festival-goers the chance to join in the performance on percussion duties.
People who read this story also read