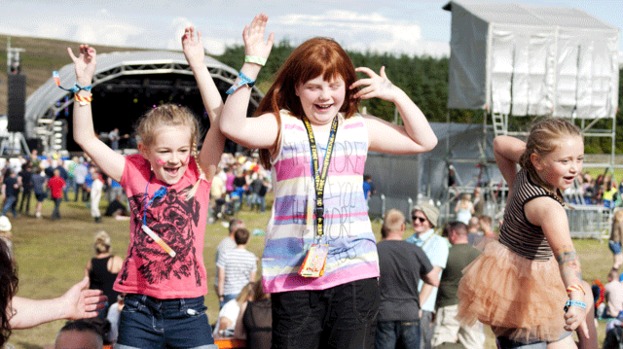 Crusty or not, raucous folk linchpins Levellers are a perfect primer on the Summerisle Stage for the main headliner, their Celtic melodies rousing a fair number of singalongs as well as plastic pint glasses thrust into the air.
Actually, probably the most edifying sight of the evening was the amount of small children sat atop the shoulders of their parents, especially the one toddler throwing devil horns with wild abandon. (At least if there's a hell she'll have a fair heads-up on what the best tunes are.)
The metal gestures might have been better suited to the Solus Tent, which was being destroyed by a brilliantly blistering United Fruit, showing no let-up in their pure rock fury. Or indeed in the goNORTH Tent, which barely managed to contain Xavia's mighty synth-laced aggro-rock, both groups showing the strength of the current Scottish scene.
Indeed, it was a credit to Xavia that it was hard to be dragged away from their buoyant performance until 10 minutes into Scissor Sisters' allotted set.
As it turned out the New York disco-pop kings and queens were taking their time before a grand entrance, meaning the start wasn't missed as they launched into the falsetto-led Any Which Way, which quickly segued into a dance-worthy groove.
Resplendent in an amazing emerald dress, the inimitable Ana Matronic declared Scotland her favourite place to play, expressing her regret at not being present for the burning of the Wickerman on Saturday night – though promised to set the audience aflame as they slid into disco-tastic early number The Skins, before Ana took centre stage for Kiss You Off. (A hard task given Jake Spears' amazing technicoloured trackie.)
There was the welcome brace of old hits Mary (especially well delivered) and Comfortably Numb, a rousing Fight Fire With Fire, as well as tracks from recent album Magic Hour, including a buzzing bass-heavy Shady Love which fared especially well. They signed off by whipping the crowd into a frenzy for recent single Only The Horses, the band a perfect choice as festival headliners, capping off a fine first day of Wickerman in style.
People who read this story also read