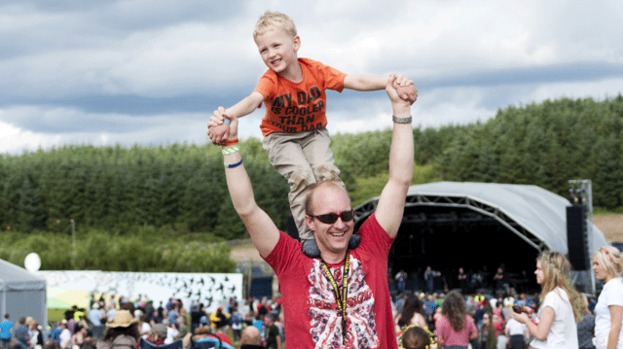 A revitalised Bis on the Summerisle Stage is akin to being on the receiving end of a concentrated sugar rush - and thusly very welcome indeed for the first day of a festival.
Spiky electro-pop formulated at super-strength dose, the likes of their 90s breakthrough hit Kandy Pop are punctuated by Manda Rin's glorious high-pitched yelps, with all well on the world.
Meanwhile all is very much boisterous in the goNORTH Tent for Washington Irving, traditional instrumentation clashing against distorted guitars and crashing drums to cataclysmic effect. It deservedly finds a warm welcome, with the band affirming the reasons behind a burgeoning reputation.
Goldblade are on in the Scooter Tent, their singer harping on about the power of "rock 'n' roll" during an extended jam as bored audience members leave - with several confused-looking girls on stage (presumably having been hauled up there at some stage beforehand).
Thankfully things pick up a bit as the band launch into a final punk-infused finale, although a slight crowd doesn't make it feel as though their set was the stuff of legend.
Still, at least they aren't 90s Britpop relics Cast, who to be fair command a good crowd on the main stage for hackneyed hits such as Walk Away, drab singalongs that make you glad for the sort of fashionably hip skronky dubstep that at least has some blood coursing through its veins.
The atmosphere is still so pleasant that it's hard to elicit too much rage at any also-rans hogging the billing, however, the mere appearance of a pleasant and often sunny festival day something that it would be churlish not to cherish.
The crowd seem in fine form, and more than ready for what lies ahead. "I think I'm doing fine," sings Cast's Jon Power, and even though his band are doing their utmost to curtail any agreement to that statement, it's still hard not to feel like it sums up the breezy mood of Wickerman so far.
People who read this story also read