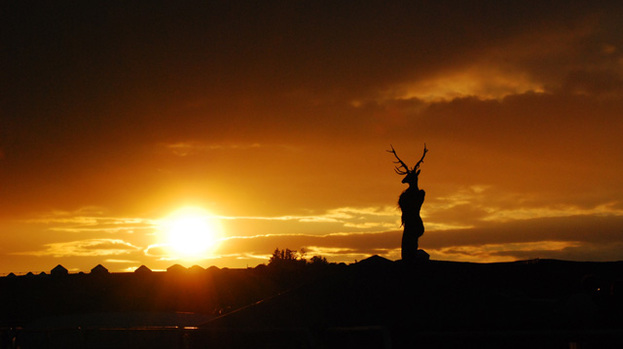 It almost feels like a novelty to have the sun out at a Scottish music festival in 2012, and yet here we are. By goodness!
There are already a fair few sunburnt casualties at Wickerman as the first day draws into the evening, a relaxed and pleasant atmosphere making it actually feel like it's the summer.
Hampered by travel conditions last year, Rachel Sermanni and 'the girls' (on fiddles and keyboard) were in terrific form at the Acoustic Village just an hour or so ago.
Her deft and subtle songwriting skills have been aided by a year spent on the road honing her live performance, the musicians finishing the set with a delicate Song For A Fox.
Sermanni continues to build upon her reputation, and if you didn't already know that she's one to watch, then make sure to catch her the next time you get a chance.
Meanwhile trad-rock group Skerryvore were urging the crowd for the main Summerisle Stage to put their hands in the air, before launching into enough of a raucous groove to have the crowd calling for an encore.
Unfortunately they had to make way for the electro-pop of Bis, but with the day as it is it's hard to feel that anybody's going to have too many complaints at the moment...
People who read this story also read