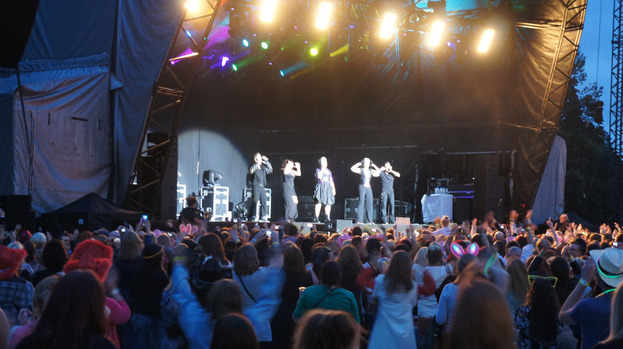 Pop groups can be forgotten in one month, never mind ten years. Over the last decade I've sang-along to S Club, seen the evolution of Sugababes, mourned the split of Girls Aloud and followed One Direction on Twitter.
The music industry and its fans can be brutal however given the range of specially designed t-shirts, posters and array of pink cowboy hats it's clear that, despite an eleven-year absence, there has never been and will never be another band quite like Steps.
Music lovers across the country were taken by surprise when the five-piece burst back on to our television screens last year in Steps: Reunion, and in the wake of follow-up show Steps: On the Road, Claire, H, Lee, Faye and Lisa showed just why they have such adoring fans during a blistering set at the Hamilton Park Racecourse.
More than 7000 people of all ages travelled across the country for the pop extravaganza with new kids on the block, Supanova getting the concert going with a lively set at 7pm.
Steps may have been the headline act but Mr Peter Andre certainly did his bit to pull in the crowds with posters, masks and even proposals directed at the songster, flying around the racecourse.
Wearing a dashing white jacket flanked by four energetic dancers the Aussie family-man's repertoire ranged from crowd-pleaser Defender to the soulful I Can't Make You Love Me.
Showing just why he's such a ladies man Pete seamlessly created a frenzy when he asked for a volunteer to join him on stage and the lucky lady was the envy of thousands when the crooner serenaded She's Out Of My Life into her eyes.
I was impressed at his versatility going from ballad to upbeat, and of course bringing his set to a close with Mysterious Girl was incredible, it was difficult to hear him over the Oh Oh Oh Ohs from the crowds.
After an impressively brief interlude dramatic music signalled the time had come for Steps.
As someone who remembers vividly the red devil horns and rodeo styles of their younger days I was relieved to see the group appear so glitteringly sophisticated and sheek in black matching outfits, respectful of their age yet glamorous.
The five-piece stormed onto the stage to Deeper Shade of Blue, Here and Now and Don't Be Sorry. Just looking across the sea of pink cowboy hats and bunny ears, the audience was without a doubt in the palm of their hands.
With the other members evacuating the stage Lee warned Hamilton Park Racecourse to expect some surprises before Faye and Lisa took the 7000-strong audience through a few dance moves.
Amidst what felt like a mass dance class, it would have been difficult not to enjoy yourself, I can't think of any other pop concert where you would get the chance to learn a routine and Last Thing On My Mind, Better Best Forgotten and Love's Got A Hold on My Heart certainly had a party atmosphere as a result.
I loved that Steps brought a bit of a modern twist to Better the Devil You Know, and as a cheeky reference to their decade away from the pop stratosphere remixed Lady Gaga's Judas into their set.
A trio of slow songs It's The Way You Make Me Feel, Heartbeat and When I Said Goodbye gave fans and Steps the chance to catch their breath back before storming back into One for Sorrow, Stomp, Chain Reaction and Dancing Queen.
Cries of We love Steps were enough to bring the band back for an encore.
The venue was in pandemonium for Tragedy with men, women and children all joining in unison for the iconic routine – an incredible way to finish an incredible evening.
Despite Steps' bows and the crowds' dash for the gates I stayed back for another few minutes thinking they couldn't possibly leave out 5, 6, 7, 8 but alas my lassos and cowboy kicks have to wait until another concert until they're unleashed.
Steps have been on a rollercoaster ride but it's clear they're embracing the moment and it's fun to see singers who look like they're enjoying themselves.
With all eyes on T in the Park for what was arguably Scotland's biggest weekend of the year for music, Steps were up against it, and despite, what I felt was a bit of an abrupt end to an amazing hour and 15 minutes they certainly had me Stomping all the way home to look out their greatest hits.