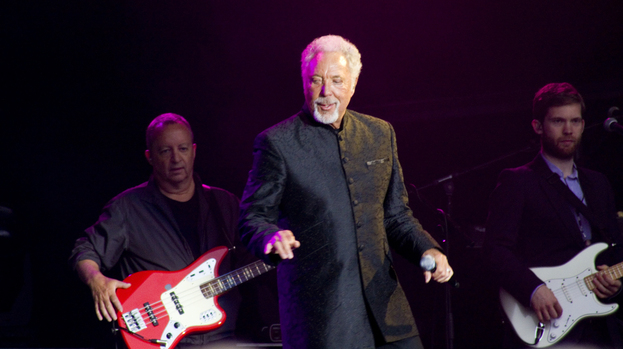 This weekend may be dominated with one of the biggest music festivals of the year, but in Hamilton there was only one T in Park and that was the terrific Sir Tom Jones.
The voice of the Valleys left Lanarkshire ladies swooning as he performed at Hamilton Park Racecourse on Friday (July 6).
Following sets from Scottish singers Carrie Mac and TJ Bilham, the Welsh powerhouse opened with Hit or Miss, a track from his latest album Spirit in the Room.
From the wild audience reaction, it was clear that Sir Tom was a hit and as he smoothly moved into Mama Told Me Not to Come, it was clear that the Hamilton crowd were glad he'd arrived.
Check out all the pictures from the night in our Sir Tom Jones gallery.
Sir Tom, who returned to television screens this year as a judge on the talent show The Voice, said he was very happy to be in "Ha-mil-ton, near Glasgow" and called Andy Murray getting through to the finals of Wimbledon "a proud day for Scotland."
It is hard to say if it was pride I felt as the Hamilton Park audience joined in with his flawless rendition of I'll Never Fall in Love Again, but they certainly were in strong voice.
As well as tracks from his new CD and the 2010 album, Praise and Blame, Sir Tom roared through his classic numbers with style, soul and more than a smattering of sex appeal…for a man of 72!
His deep voice reverberated throughout the race course as he boogied on down to Chills and Fever, Sex Bomb and You Can Leave Your Hat On.
This was to the delight of five super fans that had travelled for four hours from Elgin to see Sir Tom for the first time. The women, who were all wearing Tom Jones masks, revealed that they had "been waiting for this moment forever!"
One lady in the group – known only as Caroline – was wearing decorated underwear over her trousers which read 'Tom' on the front and 'Sex Bomb' on the rear.
The silver fox certainly wasn't short of female fans throwing underwear at the stage.
The 6,000 strong crowd was predominately female, ranging from glammed up gals in their 20s to mums in cowboy hats and feather boas and even a fair few pensioners in plastic rain hats.
The intermittent rain didn't deter the dancers, who waltzed around the grounds in their waterproof ponchos and swayed to sing-along favourites Green Green Grass of Home and Delilah.
The only disappointing element to the evening was the encore – too short at only two songs.
Sir Tom reappeared on stage to sing It's Your Thing by the Isley Brothers and closed the show with his hit version of Kiss, written by Prince.
Throughout the show, there were nods to other artists with renditions of Tower of Song by Leonard Cohen, Otis Redding's Hard to Handle and the folksong St James' Infirmary Blues, which the Welsh legend recorded with friend Jools Holland.
Proving that the septuagenarian singer, who has been in the industry for more than five decades, can turn his hand to a variety of musical genres with ease and always leaves the audience wanting more – be it covers, classics or his latest tracks.
And although he left me wanting for Burning Down the House, Sir Tom Jones definitely brought the house down in Hamilton.
TOM-TASTIC TALES
People who read this story also read