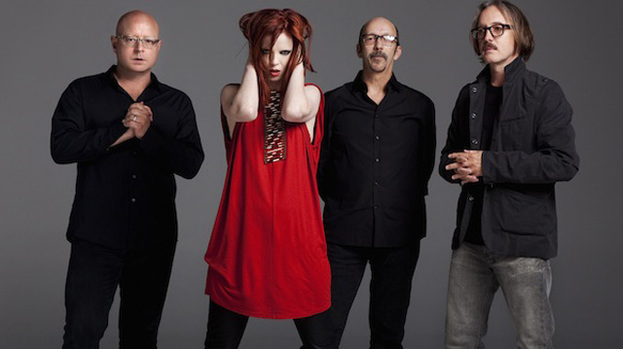 "You thought it was a rock show, not An Evening with Jimmy Shand," slyly noted Shirley Manson, after she'd apologised for swearing in front of her young niece, before the band that made her a star launched superbly into a spiky and gloriously melodious Cherry Lips (Go Baby Go!).
The singer had previously explained that it was the first time she'd been back in Scotland for seven years, talking about (and to) the many family members present at a packed Barrowland.
She also spoke of the "ghosts" present inside the venue – the front woman had first played there at the tender age of 15 with Goodbye Mr. Mackenzie. Coming back 30 years later to a hero's reception resonated deeply, adding an extra frisson to proceedings.
Indeed, it proved a special night all round. Openers The Jezabels were captivating, the Australian outfit falling somewhere between Yeah Yeah Yeahs and 80s-era U2 (i.e. they had a ton of reverb on the guitar and some epic choruses), with singer Hayley Mary variously summoning up the spirits of Karen O and Kate Bush.
Garbage started terrifically with Supervixen – the first track from 1995's self-titled debut – Manson every inch the rock goddess as she roamed the stage, her vocals alternately ferocious and sinisterly seductive, the singer still as fantastically striking as she was when that album introduced her to the MTV generation. (Back in those days when music television actually dared to feature some music.)
After that it was straight into the terrific super-charged stomp of I Think I'm Paranoid, the set taking in highlights from across the group's career, including a mesmerising Vow, beguiling #1 Crush and hugely fun Bad Boyfriend. (Dedicated to the "unbearably cute" 20-year-old Steve, and probably providing him with the highlight of his tender years so far.)
Throughout it they capitalised on their numerous strengths, including a mastery of the quiet-loud dynamic that drummer Butch Vig helped popularise with his production work for Nirvana and The Smashing Pumpkins, their penchant for fantastic, massive chorus hooks, and the deliciously malevolent guitar sound conjured up by Duke Erikson and Steve Marker. (The group were also boosted by the presence of brilliant ex-Jane's Addiction bassist Eric Avery on bass.)
Tracks from this year's Not Your Kind of People also illustrated their range, its title track coming replete with a sultry, jazzy air, Battle In Me bringing some magnificently thunderous breakdowns, and comeback single Blood For Poppies with another chorus to die for.
At the centre was Manson, a unique and charismatic presence whose pride at being Scottish – as she talked about in the encore prior to The Trick is to Keep Breathing – was more than matched by the audience's pride in being able to hail her as one of our own. (Well, that's if the reception that greeted final number Only Happy When It Rains was anything to go by, another massive singalong erupting.) Let's hope it doesn't take another seven-year-itch to see our countrywoman and her bandmates return to these shores again.
People who read this story also read