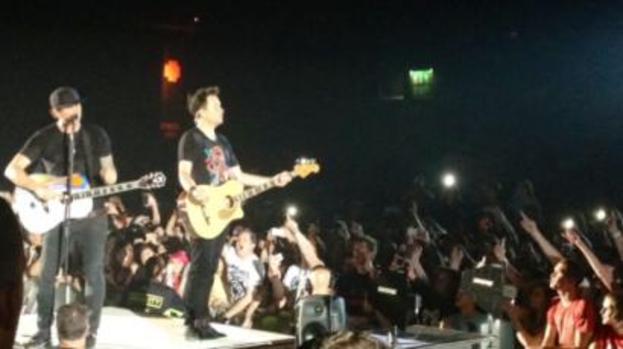 Appearing to bypass the boundaries of science, Blink-182 seem to have that secret of eternal youth as they burst into the packed SECC arena. Proudly displaying their crown of Travis Barker on a super-sized drum riser, their 20th anniversary tour kicked off with the ever-exuberant Feeling This.

Helped by their eye watering lighting rig and giant screens with various flashing images, fans accelerated rapidly from laid-back cool to full-on frenzy, where they remained for the rest of the fast-paced show, wrapped up in teen-rebellion, whether authentic or nostalgia fuelled.

With their neighbourhood set behind them in reference to their sixth studio album, The Rock Show and What's My Age Again fuelled the combusting crowd, with limbs punching out in all directions and single shoes finding their way onto the stage.

Keeping their quick-fire teenage boy humour constant between tracks, most of which is unquotable due to their adult-language, (though the 'your mom' jokes remained far from mature), the self-titled 'Sexual Superheroes', Mark Hoppus and Tom DeLonge kept the crowd entertained with their chit-chat, regardless of it seeming very well rehearsed.

I Miss You provided a brief breather in the set, though it additionally catalysed a full-on nasal-vocal karaoke which was far from soothing. It was more of a moment to rest your feet from the stomp of the rapid BPM rather than anything else.

With extrapolated instrumentals, the three-piece showed off their rigorously tight performance abilities and made the most of Barker and his skills, given that he's one of the most idolised drummers of modern day music. It's no wonder really when you see him perform with style and fluency.

Brash, abrasive and verging on bratty at times, the show pulled out the all-American theatrics. Ploughing into the rapid BPM of Enema Of The State opener, Dumpweed, the only tell-tale sign of any change since their attack on 1999, is Barker's 6-year-old daughter, Alabama, ambling between the side of the stage and the drum riser at her leisure. Sporting sound protection head-phones, it's a wonder whether these where due to her Dad's booming beats, or perhaps to block out Uncle Mark and Uncle Tom's dirty jokes.

The relentless performance barely paused with Always and All The Small Things sending Hoppus pogo-ing from one side of the stage to the other. It turned out this was to be his warm-up for a rapid dart to an acoustic section at the back of the crowd.

Appearing on a much smaller stage to the rear of the standing area, an acoustic Reckless Abandon had the arena in full voice, as Hoppus and DeLonge spoke of their little bedroom band and how far it had come. Before things could get drastically sentimental with all that excess angst lingering in the air, the thundering double-stroked drum roll of Travis Barker firmly grabbed the attention back to his podium for one of his much talked about drum solos.

A quick burst of that old pubescent riff of Dammit sent confetti canons exploding, before a final farewell in the eloquently written Family Reunion. If anyone singing along last night had a swear box, they'll be struggling for cash today.

Unable to resist a tease on the filtering arena, the original pranksters, (same genre, different band), had fans turning back as Hoppus crept back onto the stage for a final note. Literally one note, but applauded like a terribly grand finale, they might have been around for 20 years, but Blink-182 still have fans right in the tattooed palm of their hand.
People who read this story also read