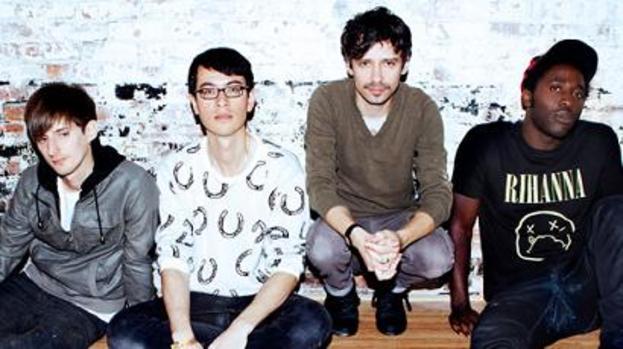 Playing their first show together as a band since their announced hiatus approximately two years and eight months ago, (so what if I've been counting), post-punk/ indietronica/ genre-fusing-whatever-you-want-to-call them, four-piece, Bloc Party were back last night. Playing a fan-club only show at Glasgow's Garage, ahead of a full album tour in October, their highly anticipated return was a sold out hot ticket, with fans willing to gamble their student discount at Topshop, and probably a kidney, to enter the exclusive show.

After some laser lights and an electronic build, the band boarded the stage with a quick wave, before bursting into that familiar tirade of sporadic off-beats, as their first track, a new one, accelerated into their unconventional take on post punk pop.

With their drum and bass influences displayed proudly, having been fine-tuned in frontman Kele Okereke's solo venture, two songs into the set, although I'd done a bit of dancing, I'm pretty sure there had been no sign of an obvious chorus. Bloc Party are definitely back.

Part of their slightly obscure charm, the familiar staggered chant of Mercury assured everyone that Bloc Party were indeed in the building, and they could still play your favourites. Rampaging into the harsher sound of Hunting For Witches, live, the band are still as wonderfully unhinged as they've always been, regardless of their accumulating years and new found facial hair.

Dropping back into more new material, Bloc Party seem to be following that familiar path since their groundbreaking debut, Silent Alarm, where subsequent albums have generally delved further and further into grower territory, requiring a few listens to make your own anthems from their tracklistings.

It's all there though, with enough angular guitars, disjointed rhythms, and distinct lack of eye-contact to keep fans in their element. Interestingly the four-piece appear to have dropped their samplers, with lead guitarist Russell Lissack gaining more pedals in his already stage-spanning rig. This has refreshed their sound, giving them a heavier core that leans back to their roots.

In great form, and with new confidence, (which led to a whole lot of new dance moves), frontman, Kele introduced their catchiest new track yet, "Team A, not A-Team." Thanks for that Kele. High end guitar hooks and girthy bass-driven riffs, deserving of a guitar windmill, got the dance party really going, before the keyboard riff of One More Chance dissolved the fan club into a singular sweat pit.

Heart-felt favourite This Modern Love was served as a mass sing song, delivered from their debut album alongside Helicopter- cue the pint shower.

Truth was another stand-out track from their new material, slipping into that slow building territory that Bloc Party honed to perfection in Blue Light and So Here We Are. With a catchy 'ooh ooh' chorus, (yes, I said catchy!), there's something weirdly Deacon Blue about this track, but only a slight hint, and a good one at that, so don't hold it against it.

Teasing with Calvin Harris and Riri's We Found Love, before leading into the relentless rush, and volume swelling turmoil of Flux, although I doubt they'll gain stadiums of new fans, or board the charts as often as the aforementioned Princess Of China, Bloc Party are well and truly back, and they can still deliver.

People who read this story also read