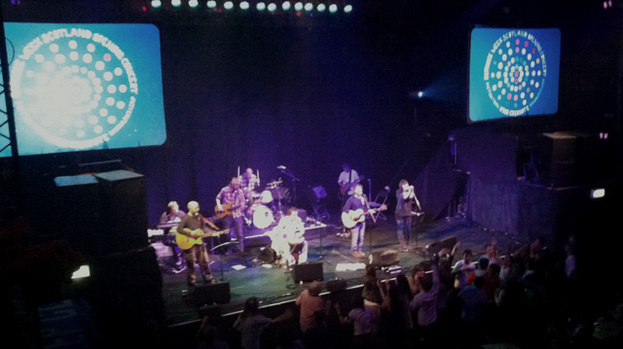 Fife's Fence Record had helped assemble a rather choice selection at the Old Fruitmarket for the Refugee Week Scotland Opening Concert. (Certainly enough to have it at full capacity, seated to provide for a more initially sedate atmosphere.)
Randolph's Leap's brass-heavy folk-pop provided a hugely pleasant start to proceedings, catchy major-key melodies driven by Iain Taylor's cheery drum rhythms and culminating with a rather lovely Crisps.
The Glasgow-based troupe led by singer-songwriter Adam Ross are a group to put a smile on your face, as well as ones to watch. (Presuming you haven't been lucky enough to have spotted them before.)
More (initially) languid but just as compelling was Pictish Trail, apparently usually the perpetrator of beautiful acoustic balladry except on Mondays, when the singer-songwriter (and co-founder of Fence Records) also known as Johnny Lynch is "letting his hair down".
True enough, there was soon a distinctly rockier edge to the affair thanks to his backing band, the songs and their melodies still shining through though. There was a welcome lo-fi electronic detour midway through, before they settled down for a lovely version of I Don't Know Where to Begin, then ramping up again for a galloping finale.
Introduced by Lynch as being in Glasgow to bring his own "Diamond Mine Jubilee" (Diamond Mine being the title of KC and Jon Hopkin's award-nominated album from 2011), indie-folk singer-songwriter King Creosote and his seven-piece band arrived onstage for a bewitching Space in Jerusalem (well, I hope that's the song title), the tempo soon shifting up to provide something of a party atmosphere. (Certainly getting some dancing going at the back of the balcony.)
Earlier that day KC had read that new song Single Cheep (from last month's EP I Learned From The Gaels) was forgettable and had an "unforgivable guitar solo", but that didn't stop Kenny and co giving a bounding rendition of the upbeat number, complete with the aforementioned fret-widdling. ("It may not sound like it, but it was the best we've played it to date," he explained afterwards.)
In keeping with the night thus far the rest of the set was upbeat, with those dancers soon moving to the front of the stage, whooping as KC sang of "dancers" during a touching, brisk take on John Taylor's Month Away. There followed a couple chirpy numbers, exiting at 11 on the dot to keep proceedings nice and tight, and firmly focused. As a primer, this Opening Concert certainly left the audience in fine fettle for the rest of Refugee Week Scotland – and KC again proved himself one of the country's great songwriting talents.
People who read this story also read