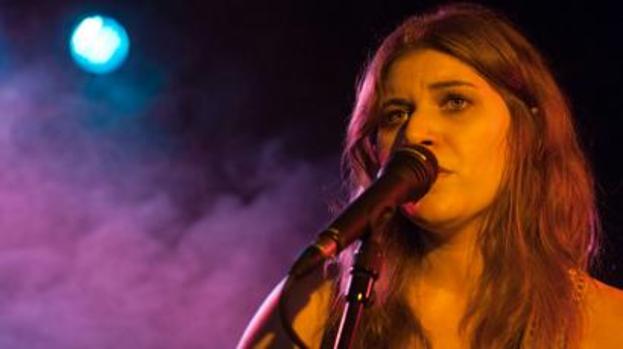 The test last night was to see if California's Best Coast, could turn Glasgow's ABC2 into The OC, (hardly The Eliminator in Gladiators). We served up a mainly teen audience that will have no doubt worshipped Seth Cohen more often than they've done their maths homework, so regardless of the show being down-scaled, and the crowd being, on the whole, water-logged from the elements outside, they weren't completely starting from scratch.

Their name doesn't refer to that old Glasgow/ Edinburgh argument, and instead is the title of surf-pop lovelies, Bethany Cosentino and Bobb Bruno. Joined by a bass-player and drummer for the first night of their tour, title track, The Only Way kick-started the carefree jangle that ran through their compact set.

Skipping through their forlorn bursts of laid-back guitar pop and entangled emotions, Cosentino and her guitar remained the focus of the show, highlighted by spotlight, whilst the rest of the band frisked around in the shadows. She might be a little blonde girl singing about boys, but she controlled the venue with heaps of attitude, and whether she was singing sweetly, "No one like you" or questioning, "What the f**k is that?", when faced with some light feedback, you wouldn't mess with her.

Summer Mood was a valiant attempt at delivering sunshine to Glasgow, though hearing Cosentino sing convincingly, "Something about the summer that makes me moody," it's probably for the best our climate is currently flirting in autumnal territory.

The rigid instrumentals of the tracks were just as, if not more, signature than the vocal, lightly crafted to remain effortless sounding. Wavering on lo-fi territory, but very together, it provided a nice beach-backdrop, similar to one of those boards you always seem to find yourself forcing your head through for a photo opportunity on holiday.

Supping wine from the bottle, Cosentino led the band through their two albums. The dreamy When The Sun Don't Shine and How They Want Me To Be, featured, alongside the light-footed hooks of, Why I Cry. Best Coast have a very defined sound, but by this point their show was verging on being a little one-dimensional.

The up-tempo 4/4 skip of Let's Go Home, shook things up, though not as much as one impatient fan shouting for best-known track Boyfriend, to which quick-witted Cosentino replied, "Yeah, it's coming," not lifting her head up from her guitar.

The slow-paced insomniac turmoil of Up All Night displayed the vocal in its finest form, the instrumental haze backing perfectly, regardless of the high strings from the record being absent. The track also installed fear in a lot of the young couples, who shiftily avoided eye-contact as the chorus of, "I wanna see you for ever and ever" struck, which was an amusing bonus.

Set closers, When I'm With You and Boyfriend sent the crowd rollicking around the front of the stage, where temperatures had reached enough of a high for one fan to cast his Hawaiian shirt aside.

There's a lot of crying, crying on the floor, general tears, wanting, and missing, though as long as they keep it varied, Best Coast are actually a bright prospect to soundtrack your summer... if it ever does come back.
People who read this story also read