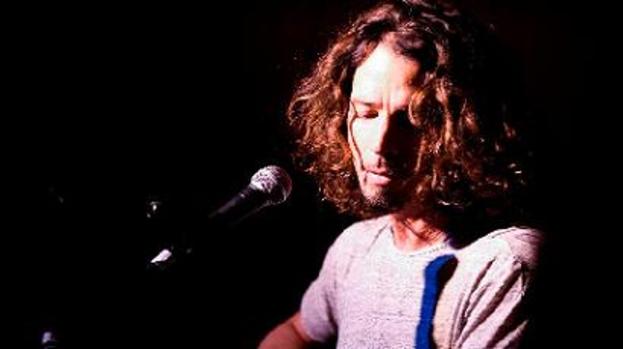 With a high volume of Audioslave and Soundgarden t-shirts amongst the crowd, regardless of allegiance, they were all there to worship at the stage of Chris Cornell, who appeared bashfully with a selection of six guitars.
Venturing quickly into Audioslave territory, Dandelion stripped-back lost no power, and instead, the space left behind by the absent bass and drums, allowed Cornell's gravely vocal to roam through pitch-perfect territory, his volume control and ferocity of guitar playing dictating the mood of the song.

Telling the tale to the defiant Can't Change Me, which perhaps involved too many other C-words, the 47-year old revisited his fist solo album. Stretching back even further in time, Temple Of The Dog track, Hunger Strike, saw his studded vocal dipped in a syrupy dew as he effortlessly leaped to the high-end of his baffling range, backing it up with earthy low-end guitar.

You'd think the skeleton of some of these power-house rock hits would dwindle without stack amps and drum risers, but acoustically, they were only reworked with new majesty and sentiment. Cornell's raw vocal provided all the meat of the sound, and that vocal was a never ending barbeque if there ever was such a thing!

His version of Billie Jean, the first in a handful of covers, took some time to work out, with nothing crotch-grabbing about the head rocking version, that would be better accompanied by a Jack and Coke than a moonwalk. The man is just simply incredible to watch, and silenced the crowd each and every time, regardless of whose turn it was to drunkenly heckle.

A subtle echo was added to Cornell's astounding vocal for Fell On Black Days, his held notes ringing out and reverberating around the room as if he were on a mountain top. This performance on a mountain top is probably about the only thing that would have bettered it, and let's be clear, there is nothing Sound of Music about this imaginary mountain top.

Unbelievably taking the performance to another level, Cornell was accompanied by jazz piano which had been recorded by the late Natasha Schneider of Californian rockers, Eleven. Played from vinyl on a miced-up record player, that nostalgic sound of the needle skimming the vinyl was alive in the room, before a rock 'n' roll Sinatra completed the haunting track. His vocal was at its best, full-bodied with soul, and with phrasing to send envy around the Rat Pack.

As Hope And Promises Fade, whether coincidental or influenced by the audience, followed one merry fan taking a drink to the front of the stage for their hero. Reminding the far from sober crowd of his new clean living, his best-known hits were still to come, but even if he had finished here for the night, everyone would have left happy. Not an easy task in Glasgow this week with the goings on in the football world...

A cover of Led Zeppelin's Thank You was played in fire-side warm Cornell-style, before sending the crowd to their feet for I Am The Highway. With soaring hung notes and the tempo ad lib, I can guarantee if you were there last night, this would have been the best you have ever heard that song, regardless of how many times you've subjected your ears to it in the past twelve years.

Incorporating a loop pedal into his set closer, Blow Up The Outside World, our host powered into the chorus, layering sounds and orchestrating them with his selection of pedals and dials, until he had crafted a dramatic hooky crescendo, with rhythmic thuds and whirring white noise amongst a jungle of dischords.

The encore served as a tribute to The Beatles, though again, the songs were reshaped and sat like they were products of Cornell's own pen amongst Soundgarden classic, Black Hole Sun.

You can't change him, but after that performance there's no way you would want to. Now to prepare for Soundgarden's return, let's hope all those nasty big instruments only compliment the true wonder of Chris Cornell's one-of-a-kind voice.
People who read this story also read