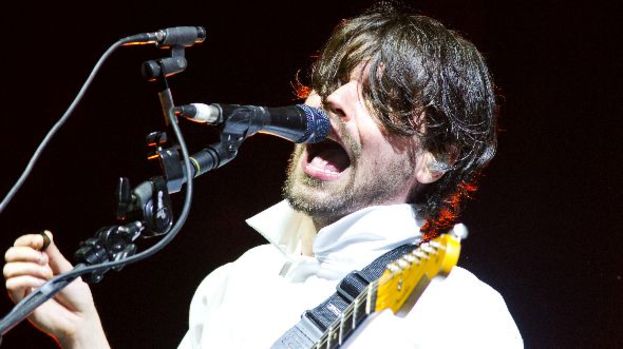 There was a great wealth – and variety – of artists at RockNess this June. Indeed, some might be so bold as to say it was one of the finest years yet for the Highland-based music festival...
Whatever the case, STV's Michael MacLennan was on hand to sort out the cream from the crud, and seemed to be in positive spirits for most of the 23 acts he reviewed over the course of the three days. (Writing 7350 words in the process.)
Anyway, here's his verdicts on the headliners, and the other main acts of the weekend. Let us know if you agree:
Biffy Clyro – "They've long since created an amalgam (and template) all of their very own, the likes of Toys, Toys, Toys, Choke, Toys, Toys, Toys bounding along, then breaking down, then soaring, then flying along again, then stop-start-stop-starting in a purposely disconcerting time signature, then soaring, then heavy stop-start-stop-starting while making the most of a brutal guitar riff, then a bit of a breathing space, then some more soaring, then who knows what the hell what else, then..."
The onstage handing over of the Olympic Flame – "Remaining conspicuously silent, the torch had something of a Brigitte Bardot-esque quality to it - a beautiful enigma, wrapped in gold, saying nothing but still impossible to take your eyes off of."
Deadmau5 – "It's hard to overstate how impressive the visuals are, the entire stage engulfed by intricate computer generated images, even including Deadmau5's beloved game Minecraft at one point while the face on his helmet mutated into that of a cat with constantly shifting eyes – the entire construction of the set-up constantly mesmeric."
Justice – "Their long-awaited second album received plenty of criticism upon release for eschewing their dance origins far too much in favour of embracing their love for 70s rock, but during their rather fantastic RockNess set it all sounds seamless – all tracks from past or more recent present combining to form a singular Goliath of bone-crushing danceable sonics."
Chic and Nile Rodgers – "The white-clad band launch sharply into Everybody Dance, superbly marshalled with two female singers handling the majority of vocals, Nile – centre on guitar – also contributing in between the funk licks."
Mumford & Sons – "Little Lion Man - the first single plucked from 2009 debut album Sigh No More - received a rather rowdy reaction, plenty of whoops accompanying its heart-on-the-sleeve lyricism and eminently singable chorus."
Tim Minchin – "The Australian blends music and comedy to hilarious effect, and his sharp wit was the perfect cure for any hangovers from the previous late night..."
Ed Sheeran – "As he flies through tracks from his album, having the gall to rap fluently before crooning delicately, it's as though they've genetically modified Daniel Bedingfield, removing the douche gene and delivering a new, near perfect version. Or perhaps it's Jacko reincarnated, with the alabaster skin he always craved?"
Mystery Jets – "It's always been a bit of a mystery to me why the Mystery Jets aren't much bigger than they are, so wide should their appeal be."
Admiral Fallow – "With newer tracks such as Isn't This World Enough?? and Guest of the Government, Admiral Fallow continue (and indeed significantly strengthen their canny knack for combining catchy, hook-laden melodies with terrifically adept, touching lyricism."
Hudson Mohawke – "The Glasgow musician was poised at the decks, stupendously fat beats rumbling out into the ground from the speakers, his sound almost impossible to categorise but grounded within hip hop rhythms, twisting blissed-out synth lines - or brilliantly floor-levelling horn blasts, as on the fantastic Thunder Bay - thrusting their way to the fore."
Metronomy – "For this particular quartet it manifests itself into beautifully arranged pop that is usually constructed using the minimal amount of elements, the group appearing to make effortless work of single Everything Goes My Way (from last year's rightly acclaimed The English Riviera)."
Errors – "Their buzzing electronic instrumentation (along with some electric guitar) twisted and wrapped itself around ever more danceable rhythms, the massive synth-bass lines underpinning most of their tracks also doing a good job."
Lucy Rose – "She's mesmeric during a haunting rendition of Night Bus, her band effortlessly tight (or so it appears) and providing plenty of drive elsewhere for the likes of a graceful, gliding Scar."
Noah and the Whale – "I wouldn't want to go so far as to say that they're music for people who don't like music; what I do know is that I struggle to remember any specific songs even as I scribble these very words on to my notepad."
Discopolis – "Even if their sunny dance-pop isn't quite reflected by the overcast conditions, Edinburgh's Discopolis acquit themselves well, their yearning and blissful tunes suited for long summer days."
The Rapture – "The indie-dance punk-funk quartet aren't without other bracing numbers - the likes of Get Myself Into It and Whoo! Alright - Yeah... Uh Huhracing along rather nimbly - but it does feel slightly like diminishing returns, welcome though their presence still is."
Friendly Fires – "The energy continued for Blue Cassette, before the groove of True Love arrived resembling Talking Heads with the tempo ramped up, vocalist Ed Macfarlane dancing along without a care as they continued onwards with their set."
Gun – "The hurtling distorted twin guitar head rush of Gun was therefore entirely welcome on the Sunday afternoon in the Clash Arena, the revitalised Scottish band's straight ahead rock a refreshing alternative to the other delights on offer."
Japanese Popstars – "Taking refuge from daylight in the Golden Voice Arena, Japanese Popstars are trying to make 2.30pm on a Saturday afternoon in a quiet Highland village feel like 2.30am at the Arches."
Totally Enormous Extinct Dinosaurs – "The fusion of his vocals to dynamic electro house on the likes of Tapes & Money brings to mind Tiga, which is no bad thing at all, the crowd swelling and becoming ever more appreciative as his allotted stage time arrived."
Wretch 32 – "Wretch 32's subsequent set in the Golden Voice Arena was boisterous enough before the rapped unfurled a snippet of House of Pain's Jump Around, the grime-pop - or as I like to call it 'gripe' - star bringing a full band with him to RockNess, who attacked a euphoric dance-inflected new number with requisite vigour."
The Correspondents – "A brief glimpse of the end of their set suggests that musically they're able to also stand out, the crowd-friendly drum 'n' bass engaging and tinged with a distinctive edge, their street cred at least in my estimation boosted by Mr Bruce looking for his glasses before the final number."
For all our coverage from the festival, visit stv.tv/rockness.