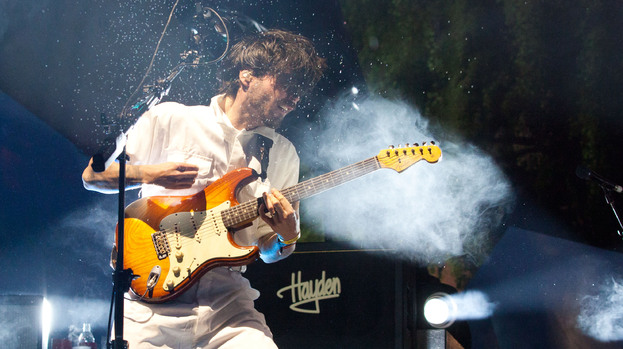 It's pretty heartening to see that – at the end of the rather chilly RockNess weekend, most festival-goers with at least a few layers on – the Johnston twins are 'taps aff' from the get-go, Highland weather conditions not going to deny their duty to display an ample amount of pasty white freckled flesh onstage.
As a signal of intent it's pretty decent, but no match for a triple-barrel burst of an epic Mountains (prompting a massive singalong), blistering Golden Rule (smoke cannons blasting upwards and threatening to blow the roof off the main stage), then 27 (an old favourite played primarily to have pretty much everyone screeching their own lungs out of their bodies).
Their first headline appearance at a Scottish festival (having come close at RockNess a few years back), the trio – drummer Ben and bassist James along with guitarist Simon Neil – were eager to make the most of the opportunity (also bolstered by a live guitarist).
Having found their fan base not through PR but through decades of heavy touring, it would be difficult to imagine them as anything other than terrifically tight, winding their way through a well chosen set that stayed interesting throughout. Having recorded their new double-album there was plenty of new material to choose from, and they aired new track Modern Magic Formula, a track which opted for a route of distinctly heavy riffage, propelled by a fast-moving bass line until it devolved into a riveting quick-fire atonal breakdown.
Their more melodic rock moments - such as the well received Folding Stars – are often reminiscent of Foo Fighters, with more oblique sections harking back to the spindly 90s post-hardcore of the likes of Faraquet. With that and their penchant for soaring anthemry they've long since created an amalgam (and template) all of their very own, the likes of Toys, Toys, Toys, Choke, Toys, Toys, Toys bounding along, then breaking down, then soaring, then flying along again, then stop-start-stop-starting in a purposely disconcerting time signature, then soaring, then heavy stop-start-stop-starting while making the most of a brutal guitar riff, then a bit of a breathing space, then some more soaring, then who knows what the hell what else, then... Well, you get the idea.
It's great for capturing attention. Though when they purely focus their attention on the singalong, heart-on-the-sleeve-if-a-sleeve-is-being-worn aspect, oh my. The spectre of The X Factor and what's-his-name is firmly punted into the nearby loch by a colossal rendition of Many of Horror (for that is its actual title), the crowd reaction raising any hairs on the back of the neck not already adversely affected by the weather. After that there's a bit new material on offer with the spindly guitar lines and fist-pumping chorus of The Joke's On Us, plus plenty of other well known favourites.
"Have a good evening, we are Biffy Clyro, toodle-loo," says Simon before Bubbles, fooling no-one but still getting them bouncing regardless, huge blasts of blue flame then shooting out either side of the stage. (Ah, so that's why the brothers had their tops off! Canny wee beggars...)
After a brief period off stage, they return to much applause and whooping and cheering with the distorted staccato shock treatment of Living Is a Problem Because Everything Dies (Simon's nasally vocals in the verse akin to Idlewild). They then play their actual final song The Captain, which allows for some good, healthy crowd 'woah-oh-oh-ing' before it clatters into its memorable chorus, bringing with it the 'witching hour' Simon speaks of beforehand – and several minutes of fireworks which function as a pretty sure sign that, for another year, RockNess is over. Biffy were every bit the festival headliners that RockNess deserved, as well as a great bunch of lads. All the best.