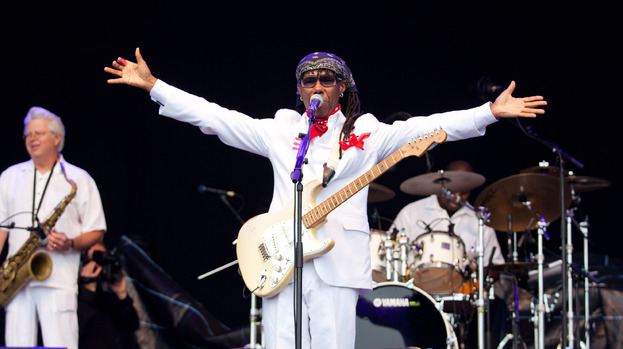 Nile Rodgers is so excited that he can't even wait until the beginning of his and Chic's set, stepping out on to the main stage to take shots of the crowd while the roadies are sound-checking. He soon reveals why.
"I want to get everyone out there dancing! It's too cold to stay still out there," he reasons sensibly as he emerges back out for the set, explaining that it's time to get back to the days of disco. (Which makes me wonder what on earth the days of disco must have been like in Inverness.)
The white-clad band launch sharply into Everybody Dance, superbly marshalled with two female singers handling the majority of vocals, Nile – centre on guitar – also contributing in between the funk licks. Without a pause they switch straight into "very first single" Dance, Dance, Dance, which succeeds gloriously in its intent, before everybody claps along as it breaks down "Chic-style".
Nile was keen to stress at the start that they're not a cover band, the group (or individuals within it) responsible for all the hits that flow forth during the next hour, next track I Want Your Love locking into its fantastic groove and bringing a smile to the crowd's faces even as the rain starts to lash down.
"Is this what summer's like in Scotland? What the hell's winter like?" jokes the band leader before they tackle the song they produced for Diana Ross, I'm Coming Out, before eliciting more whoops as they segue fantastically into Upside Down. (And again, that bassist!)
So it continues, switching nimbly and expertly into the likes of We Are Family (which somehow gets a crowdsurfer), Soup for One (its slinking bass line was sampled to provide the basis for dance hit Lady (Hear Me Tonight)) and Like A Virgin (which Niles produced for Madge).
Because the promoter promised to let them play longer if they performed it, Nile has the band play a song he wrote with Duran Duran, Notorious (providing yet another amazing bass line – THAT BASSIST), before the drummer takes over on lead vocals for Let's Dance.
Then back to Chic numbers culminating with a brilliant Le Freak – providing another astounding bass line (THAT BASSIST) – then a mini-stage invasion for Good Times, which finishes things off in exactly the right sort of spirit, Nile again looking buoyant. After being diagnosed with cancer in 2010 it's great to see the legendary producer and musician back on the stage, but in and of itself this was just a brilliant set of songs to bear witness to. Good times, indeed.