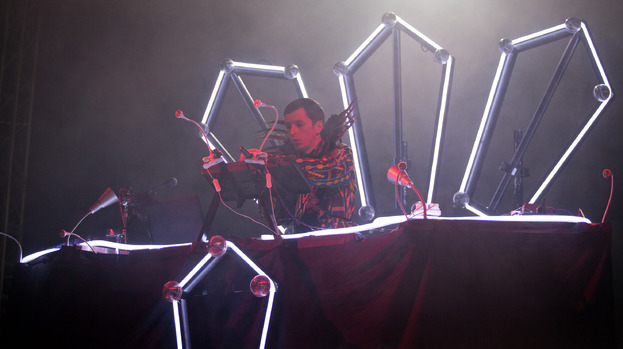 Totally Enormous Extinct Dinosaurs may have a couple of female dancers onstage for Stronger, but he is undoubtedly still the star of the show, peacock-style plumage shooting out the lapel of his multicoloured jacket.
TEED (aka Orlando Higginbottom, which is just about as memorable) provided breathy lead vocals when not tweaking the flow of the set's beguiling electro house via an array of equipment. Within the Golden Voice Arena the beginning felt like a hypno-ambient soundtrack to the early hours, a world away from the Sunday afternoon still carrying on outside.
Garden followed, recognisable to a larger audience thanks to its use on a mobile phone advert (with his onstage collaborator providing sweet female backing vocals), the alluring sub bass and bewitching beats that followed helping amass ever more of a crowd. "This is a special day because my album's coming out tomorrow, so it's my album party," Higginbottom explained, before belting out a pumping track with clattering percussion ringing over the top, the booming Blood Pressure ratcheting the danceability scale up several notches.
The fusion of his vocals to dynamic electro house on the likes of Tapes & Money brings to mind Tiga, which is no bad thing at all, the crowd swelling and becoming ever more appreciative as his allotted stage time arrived. (He's been shifted forward to accommodate an extra set by The View, many of whose fans were unable to catch them in the Clash Arena the previous day.)
There was plenty enough to provide a singalong for Household Goods's vocal line, before it broke into a suitably euphoric chorus synth hook. "Best festival crowd of the summer so far," said Higginbottom at the end, which sounded meant as a compliment – even if chilly conditions outside has made it feel like summer hasn't even started yet.
Meanwhile Glasgow's Errors are (electro)rocking splendidly in the Clash Tent, the trio attacking an epic Pleasure Palaces with commendable vigour, drummer James Hamilton in particular thrashing away at his kit to lend the single from this year's Have Some Faith In Magic some added thrust.
Their buzzing electronic instrumentation (along with some electric guitar) twisted and wrapped itself around ever more danceable rhythms, the massive synth-bass lines underpinning most of their tracks also doing a good job.
"We've got a couple of tunes to play, then you can go do whatever you want," advised Steev Livingstone helpfully, before he took on guitar/electronic duties for a retooled but still mesmerising Mr Milk. After that Errors ended with a soothing Holus-Bolus, the crowd then left confused, alone and with nothing left to do other than contemplate their own fate.