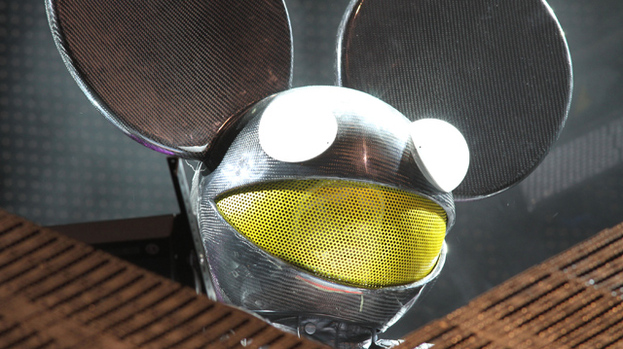 The mammoth end to Justice's set on the Golden Voice Arena means I arrive 20 or so minutes into Deadmau5's performance, though as it turns out it's a bit of a slow burner. (Not that Joel Zimmerman should necessarily have been expected to rush out the gates when delivering a two-and-a-half hour set pretty much all on his lonesome.)
The stage set-up isn't exactly understated - Zimmerman's head fully encased in an amazing animated LED helmet with mouse ears, performing on top of a massive angular podium which functions as part of the spectacular synced light show. (Get a glimpse of it here.)
The music is at times just about as unsubtle, pounding techno delivered like a brutal hammer blow – however, these moments themselves are expertly constructed despite the appearance of base simplicity. It's evident in an excellent rendition of Some Chords, the track building slowly, with its synth lead line hitting with thunderous intent once the beat kicks in.
It's hard to overstate how impressive the visuals are, the entire stage engulfed by intricate computer generated images, even including Deadmau5's beloved game Minecraft at one point while the face on his helmet mutated into that of a cat with constantly shifting eyes – the entire construction of the set-up constantly mesmeric (Zimmerman sometimes wearing his older non-LED helmet, and on the odd occasion a simple baseball cap to provide him with a better view of the audience).
Though the set didn't really feel as though it had got going by the end of the first hour, as the darkness descended upon Loch Ness –neon suddenly glowing wonderously from all around – proceedings intensified terrifically, the production always fearsomely crisp, 4/4 beat always crystal clear. With the tunes before it largely devoid of vocals, there was a chance for the crowd to sing along – arms thrust aloft in the air – for the chorus of a spine-tingling Raise Your Weapon, before the electro-house track broke down into soul-crushingly heavy dubstep, and built into a blistering Sofi Needs A Ladder, vocalist Sofi coming onstage to inject some extremely welcome presence front of stage.
Strutting around and geeing up the crowd, she remained as they launched into a slow, menacing groove of One Trick Pony. (With performances in front of this size of audience you can see why Zimmerman may consider more vocals a necessary addition to engage the crowd.) After that it was up to Deadmau5 to make things ever more enthralling on his lonesome, a sample of Daft Punk's Harder, Better, Faster, Stronger heralding a pounding, bouncing FML.
The great electro throb of Ghosts 'n' Stuff allowed the crowd the chance to gloriously yell along to Pendulum man Rob Swire's recorded vocals. An inspired graphic of a Nintendo controller with a 'continue?' countdown provided the crowd with a chance to demand some more, with Deadmau5 obliging with a final few tracks. The highlight of that was an epic, sweeping Strobe, before The Veldt brought things to a close. No wonder dance is so dominant at the moment: in terms of sheer spectacle, there are few acts who can possibly match Deadmau5 at the moment. Just ask any of those at RockNess last night (once they've adequately recovered from the experience, of course).