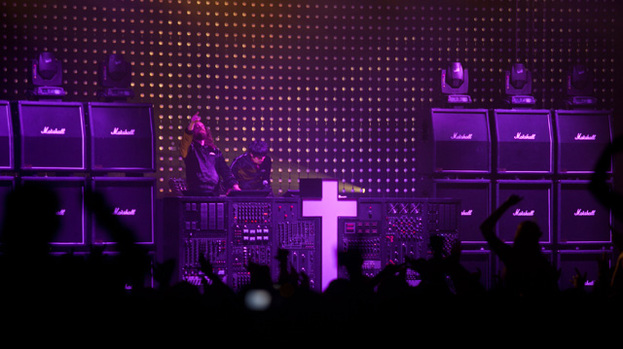 Their set arriving 20 minutes earlier than expected – presumably so as to avoid too much of a clash with Deadmau5 who is later headlining the nearby Main Stage – I join those others running to try and ensure entry to the Golden Voice Arena (security having already formed a line to restrict entry to the heaving tent).
Thankfully we make our way in, just as a spliced-up Phantom magnificently juts and gyrates, before it soon after transmogrifies into a super-charged take on last year's Civilisation. That single's synth riffs slam forth as though 70s rock is being dual-handedly reconstructed utilising nothing other than a couple of well worn Yamaha keyboards.
Then bursts of other heavily reedited tracks from their debut, such as DVNO and D.A.N.C.E., rub up alongside numbers from 2011's follow-up Audio, Video, Disco's, with its opener Horsepower another highlight. With snippets of other tracks being introduced long before or after they've been 'played' in something approaching entirety, the effect is of a radio being rapidly switched from station to another, each playing the best sections of Justice's two albums so far – short attention span allowing no room for flim flam.
The stage is something to behold, adorned with massive Marshall amps on either side of the French duo. Underneath their performance area is a mass of LED piffery reflecting the electronic nature of proceedings, the pair resplendent in leather jackets just above a massive flashing cross.
Their long-awaited second album received plenty of criticism upon release for eschewing their dance origins far too much in favour of embracing their love for 70s rock, but during their rather fantastic RockNess set it all sounds seamless – all tracks from past or more recent present combining to form a singular Goliath of bone-crushing danceable sonics.
During Genesis what sounded like a recurring siren holler was inserted as a clarion call for more chaos from the crowd, before it cut superbly right into their first single, 2005's still-spine-tinglingly brazen Waters of Nazareth. Suddenly it's then completely silent, one member perched behind the instrumentation, other in front of those amps – also frozen – with a cigarette and leather jacket, looking about as French as is surely possible.
After a few minutes of ever-greater crowd roars it's the chorus of breakout hit We Are Your Friends, then a reprise of Phantom, the title track from Audio, Video, Disco, an ultimately anthemic On and On, and to beautifully tie up the set Phantom Pt. II, a fantastic coda to a set which proves Justice are even more titanically strong than ever in the live arena.