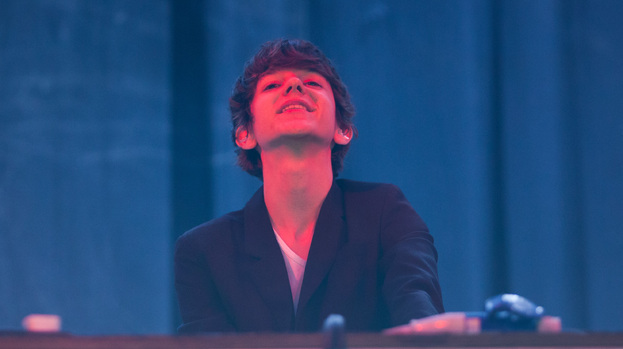 Guillemots are putting in a fine performance in the Clash Arena, the group defiantly wide-ranging in scope as singer Fyfe Dangerfield switches from tender indie balladry to more epic echo-laden barnstormers, electric guitar brazenly blitzing over the top.
They're bewitching, but the Golden Voice Arena calls just to check it Madeon is actually a real human being. Just turned 18, the French electronic wunderkind possesses the sort of pin-sharp skills that hit dance producers twice his age would kill for.
So it proves: perched before an array of electronic instrumentation (including a laptop no doubt crammed full of as much RAM as it can handle) Madeon delivers his strutting remix of Deadmau5's Raise Your Weapon, injecting it with the same DNA of joyous funk-inflected electro-house that made Daft Punk's name.
What's astounding during his set is how sharp his skills are, hopping from sound to sound with a vigour that probably reflects his abominably young age. Unless Will.I.Am or Jessie J get their grotty little hands on him, he's going to be absolutely huge.
Madeon feels in essence like that next step in French dance which many were expecting and hoping would arrive after Justice's first album raised anticipation to fever pitch. In other words, it's brilliant. AND HE'S STILL JUST 18 WHICH MAKES MY BLOOD BOIL WHILE ALSO BEING ENORMOUSLY EXCITED SO THAT MY BRAIN DOESN'T KNOW WHAT TO DO.
Literally no-one else could take me away from Madeon mid-set - just as he's geeing up the crowd with a beefed-up version of Blur's Song 2 - other than Beardyman, the most talented musician I think I may ever have seen, who has already been holding court on the Main Stage for a good 20 minutes or so.
As expected he's in fine form, a new set-up allowing him to meld the sounds of his own voice ever more into absolutely anything from buzzing bass lines and nifty synth hooks to pumping beats and screeching falsettos, and everything in between.
"I do it for that face... 'Who the f***'s that guy?'" he jokes, pointing to the puzzled expression of a girl as he creates a beat made purely of squelches and fart noises (using nothing but his mouth, of course), before launching into something a little more sedate for early evening.
Soon after he's broken into a more dynamic and danceable number, transcending the idea of being a mere beatboxer by constructing his own distinct takes on the likes of Eurythmics' Sweet Dreams (Are Made of This), moving seamlessly from track to track as he does so. It's not as though it hasn't been said before in previous years (sometimes even by myself), but Beardyman really is in a class all of his own.