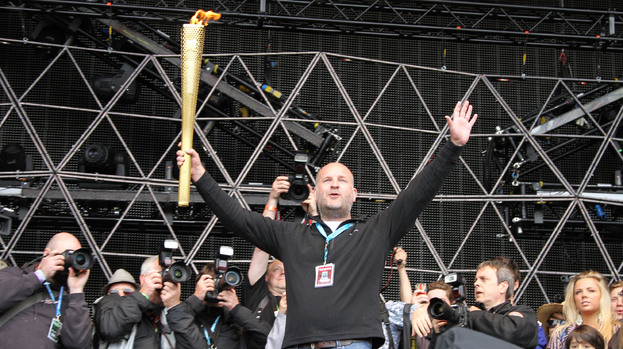 "Screw it," I thought, as preparations were made for its appearance, "if I'm already making public my ill-considered judgements of the other Main Stage acts, why shouldn't I do so for the Olympic Torch?"
And so I waited. The Main Stage's big screens informed the crowd: "RockNess will be proud to welcome the Olympic Torch between 16:50 - 17:05. Don't miss it!"
So what exactly would it be doing to explain such excitement: a gravity-defying acrobatics performance to Things Will Only Get Better? A sob-inducing duet with Shirley Bassey? A chirpy well orchestrated routine with a well trained canine to Just The Two Of Us?
Instead the torch opted more dignified route (most likely taking cues from the jubilee). Romeo from In:Demand Scotland introduced the torch, getting as many people in front of the main stage as possible for a group photo in front of the guest of honour. (And who could possibly refuse, apart from the inebriated gentleman next to me, who booed as loudly and often as he could – barring moments when he stuffed a few more chips into his gob – for the entire duration of its appearance?)
Festival boss Jim King brought the unlit torch onstage. Remaining conspicuously silent, the torch had something of a Brigitte Bardot-esque quality to it - a beautiful enigma, wrapped in gold, saying nothing but still impossible to take your eyes off of.
Its thought were its own, and we were left to gawp in wonderment.
Personally, I thought what the torch was trying to say is: sometimes, less is more. In a day filled to the brim with booming music, this was the ultimate artistic statement, one made gracefully and without fanfare.
Finally the flame was brought in by a local type on the previous, craggy torch, before the handover was made, the flame gratefully leaping over to its new owner (which itself was thrust aloft by King).
Upon its annointment the torch - now our torch – chose to again say nothing. However, on this occasion it seemed from these eyes to be unmistakably a subtle but brilliantly salient point about the crisis gripping the Euro. (Hopefully the nations' leaders were all paying attention?)
Then, with an insouciant flourish, it was off on its journey, not even turning back towards us a final time to say goodbye. In summation? The torch was undoubtedly charismatic, but really needs to work on its stage presence if it's to make a notable dent on the Scottish festival circuit. Hopefully it'll be back at RockNess next year, if it isn't too much of a diva by then to put up with the midges.