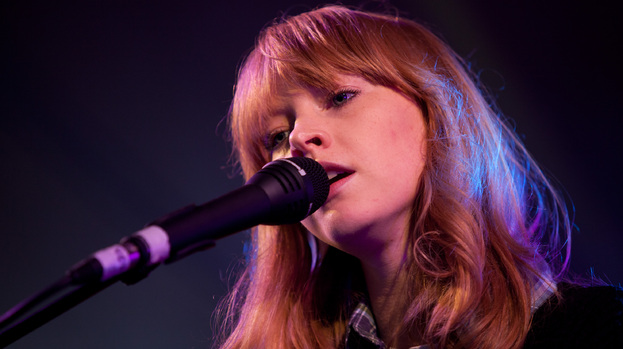 A couple of songs into her performance, folk-pop songstress Lucy Rose says it's a "big deal" being back at RockNess, as it was the first festival to ever ask her to play, back in 2011.
Her silken voice does a more-than-adequate job of commanding attention despite some of the nearby Arcadia UFO's thudding dance sounds bleeding over into the Clash Arena.
She's mesmeric during a haunting rendition of Night Bus, her band effortlessly tight (or so it appears) and providing plenty of drive elsewhere for the likes of a graceful, gliding Scar.
Mixing the pace of her set nicely, Rose and company provide a performance that's elegant and engaging - she'll surely be welcomed back for a third year, though it would no doubt be appreciated both by audience and artist if they can next time find a venue slightly more isolated from the rest of the festival buzz...
Hmm, I wonder if The Rapture have ever been summoned to a band meeting, one member turning to the rest and saying: "We may think we can write a better song than House of Jealous Lovers, but recent history has proven otherwise, so why don't we give James Murphy a phone and see if he might assume production duties just one more time?" (Rest of the guys leave the room.)
"Guys? Guys???" (Door of room slams firmly shut."
"I mean, come on!" (You'll have to imagine that translated into proper New Yorkean.)
The indie-dance punk-funk quartet aren't without other bracing numbers - the likes of Get Myself Into It and Whoo! Alright - Yeah... Uh Huh racing along rather nimbly - but it does feel slightly like diminishing returns, welcome though their presence still is.
It's a fun set that gets the crowd clapping along, and they do a decent job of keeping things eminently danceable, with good-time vibes flowing outwards throughout, both before and after House of Jealous Lovers steals the show.