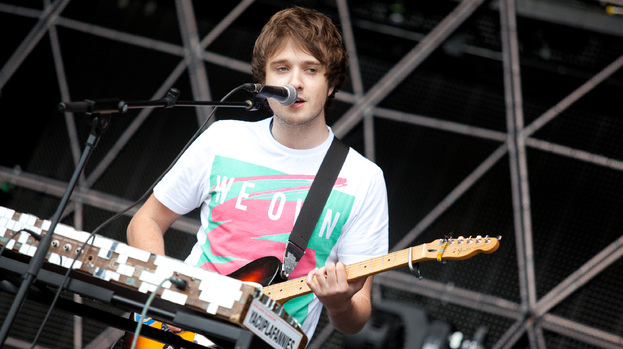 Ah, Saturday afternoon, the chance to relax and take in the magnificent scenery that Dores has to offer as a festival location. Well, unless you're performing, of course...
It's nice to see an up-and-coming Scottish band given a Main Stage slot – and there's quite a few at RockNess this year, commendably.
Even if their sunny dance-pop isn't quite reflected by the overcast conditions, Edinburgh's Discopolis acquit themselves well, their yearning and blissful tunes suited for long summer days.
Their set builds to a more electro-infused climax, and has plenty on their feet by the end, which is no mean feat during the early hours of a second festival day.
In comparison to yesterday's more indie- and rock-based feel, today's offerings at RockNess are more resolutely electronic in nature, a fair few festival-goers appearing to have started their partying impressively early – if indeed they've bothered to stop from the Friday night...
Taking refuge from daylight in the Golden Voice Arena, Japanese Popstars are trying to make 2.30pm on a Saturday afternoon in a quiet Highland village feel like 2.30am at the Arches (or whichever of your nearest nightclubs are likely to be pumping with coruscating dance beats at that time of the morning).
They're actually doing a pretty decent job too, the front part of the crowd in good voice – fitting given the venue – as they greet all the duo's drops with whoops and cheers, the electro beat throbbing throughout as synth squelches and vocal hooks fire out over the top. The tent's far from full, but the group make it their own for the duration of the performance, even though it's not the most spectacular of sets.