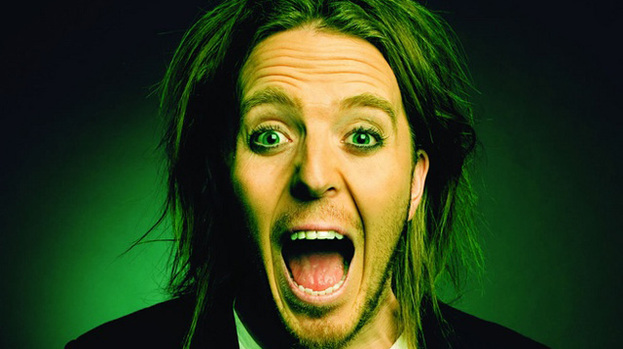 "Only a ginger can call another ginger ginger," sings Tim Minchin, and he's unlikely to ever find a more receptive audience than in the Highlands of Scotland, where his set's being lapped up both by the locals and those from far beyond.
The musically gifted comedian has arrived at the Golden Voice Arena at an outrageously early 1pm on this Saturday – with a grand piano in tow – but the promise of his sharp, witty songs has encouraged along an impressively large audience. (In festival time this is like rising at 5 in the morning after an interrupted sleep, and the dog prodding at your feet for a walk.)
"This is a song I wrote for the Jonathan Ross Show but they cut out, because it was so contentious an cutting edge," Minchin noted archly before the drollWoodyAllenJesus, a song so deftly light-hearted that it's odd to imagine it as in any way controversial. (At one point noting of the biblical messiah that he "kinda did what Derren Brown does".)
"I was embarrassed by the Australian chanting, but my embarrassment was mitigated but how stupid yours is," he responds amusingly soon after standing up to try and engage in some audience participation, only to be met by some chanting from his country mates at the back of the arena – then asking Scots if they have any equivalent (the answer to that should be obvious to anyone who's been at a festival here).
It's hard to try and corral a festival audience in these sort of environs, so he wisely ditches any attempts at stand-up to concentrate on the tunes, addressing such varied issues as rubbing boobs, why the pope is a "f***ing motherf***er" (a sharp laceration of religion that must take at least a little smidgen of bravery to perform in Scotland – even if he does somehow manage to get a clapalong by the end), and exploring his dark side (with an on-the-ball Jim Steinman-esque exploration of rock balladry which breaks into a fairly fearsome boogie).
Finishing with a plaintive plea to "take your canvas bags to the supermarket", which by its denouement has become a full-on rock anthem with Minchin stripping off his top to perfect his Jesus pose (for comedic effect, obviously), the comedian proves to be an absolutely excellent choice for this time of day, the only question as he departs being: who or what shall top that any time soon?