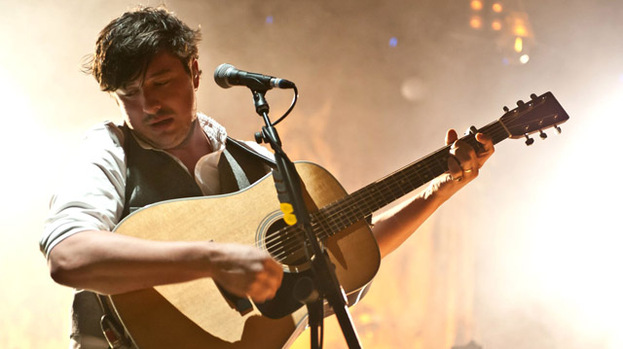 Mumford and his trusty troupe are bathed in the gloom as they kick off their RockNess headline set with Lover's Eyes, the besuited group soon revealed under brilliant yellow spotlights as the instrumentation builds up, all insistent percussive thud and double bass and mandolin and hugely impassioned vocals, with a very Celtic glint to proceedings. (Until they talk it still feels faintly inconceivable that they're English, rather than Irish, Scottish or Welsh.)
The following Little Lion Man - the first single plucked from 2009 debut album Sigh No More - received a rather rowdy reaction, plenty of whoops accompanying its heart-on-the-sleeve lyricism and eminently singable chorus. Meanwhile Timshel focused on the quartet's rich harmonies, delicate acoustic plucking underpinning the song.
"Would any of you like a dance? Then grab a partner," instructed keyboardist Ben Lovett, plenty of couples with enough space around them obliging with a two-step - or something with a more freeform routine - for a rollicking Roll Away Your Stone.
Marcus Mumford took to the drum kit for a new track from their upcoming second album (apparently set to arrive in September), still assuming lead vocals and singing "love the one you hold" during its chorus, its persistent percussion providing it with an added drive compared to their older material. A banjo solo (so strangely rare in 2012) kicked things up a notch, swelling horns bolstering the well received song, which had all the hallmarks of a lead single.
Then suddenly! There was an ecstatic, shocked reception as the Mumford & Sons veered violently from their indie-rock origins to serve up another new song, a scintillating clownstep-meets-minimal-techno dancefloor-filler which... Ah, sorry, drifted off into the world of imagination for a second there. Instead the latest recently recorded track was more of the same, albeit slower and a bit more contemplative, mournful strings resplendent as Mumford sang of a love lost, or a lost love (or whatever else it was requiring him to croon "hold me still" with bug-eyed sincerity).
So the record hasn't changed, though it is a bit grander and more stadium-sized. given the teasers on offer. To thank the audience for being witness to their first festival headlining set they also unveiled Whispers in the Dark, driven by much the same template as Little Lion Man. Before finishing the main set they even revealed yet another track featuring full-on electric guitar (though it didn't quite match Dylan in the controversy stakes, instead eliciting another warm audience reception). They rounded off things with The Cave, a suitably rousing finale to the evening's Main Stage.
Much more interesting was Hudson Mohawke, who provided such a rich tapestry of sounds with his set in the Clash Arena as to make Mumford feel decidedly flat-footed by comparison.
The Glasgow musician was poised at the decks, stupendously fat beats rumbling out into the ground from the speakers, his sound almost impossible to categorise but grounded within hip hop rhythms, twisting blissed-out synth lines - or brilliantly floor-levelling horn blasts, as on the fantastic Thunder Bay - thrusting their way to the fore. It all provided a welcome blast of excitement - Fuse another superb blast to the synapses - just as proceedings had started to feel a tad more predictable than they ever ought to on a Friday night at RockNess.