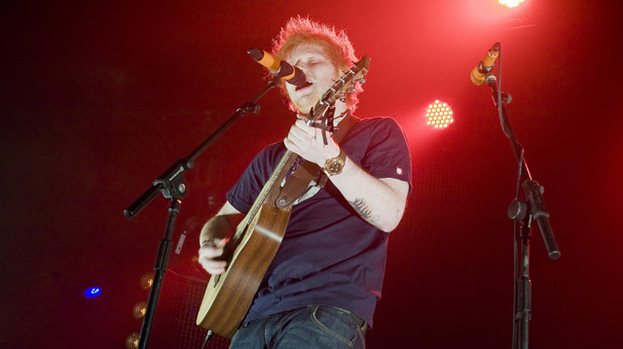 Noah and the Whale are alright, aren't they? Their set moves along merrily enough on the Main Stage, the group neat both in appearance and in song arrangement, with nary a loose end that even needs tied up.
I wouldn't want to go so far as to say that they're music for people who don't like music; what I do know is that I struggle to remember any specific songs even as I scribble these very words on to my notepad , with them playing directly in front of me and the crowd screaming as they deliver what I'm assuming must be one of their better known hits. It's very pleasant though.
Indeed, if I'd had to describe them in three words I'd perhaps have plumped for 'jolly festival fodder', which should just about sum things up. However, though they do decently enough, there's a bit of an exodus as Ed Sheeran gets set to arrive onstage in the Golden Voice Arena. (Well, back onstage, since he guested during its previous set by Wretch 32.)
People are practically crawling over each other to make it inside (the crowd soon spilling well outside the tent), which in itself is some achievement to be claimed by the almost offensively young solo singer-guitarist. (I'd wager than some of the opprobrium levelled at him by naysayers is more to do with how cherub-faced the 21 year old is, rather than about his ginger mop of hair.)
Ed employs his loop pedal to great effect throughout, at times able to ditch the acoustic and grab the microphone as he continues to accompany himself using the wonders of modern technology. "My job for the next hour is to entertain you," he explains. "This is how it's going to work, are you ready to be my gospel choir?"
Soon most everyone within the arena is hollering along merrily. Last May he was dutifully playing to a couple of hundred in Glasgow's ABC2 for Stag and Dagger; just over a year later he's commanding a crowd of thousands with ease. It's some rise in fortune for this year's award-laden musician of the moment, and he handles it rather beautifully, without any betrayal of ego, easily getting a good old singalong going for Drunk. (The title alone guaranteeing a crowd reception usually reserved for royalty.)
As he flies through tracks from his album, having the gall to rap fluently before crooning delicately, it's as though they've genetically modified Daniel Bedingfield, removing the douche gene and delivering a new, near perfect version. Or perhaps it's Jacko reincarnated, with the alabaster skin he always craved?
Either way, it's brilliant and rather mesmerising. The set doesn't weaken nearly as much as you'd expect it to when he has just the one album out, and it's delivered almost flawlessly - "Ooh, there's a fly," he notes as Lego House's heavily bolstered chorus is suddenly paused for a second, before he resumes normal service after a bit of instinctual swatting. Then it's full-on karaoke time for The A-Team, as though he didn't already have the audience wrapped around his little finger.
A massively extended Move On sees him assemble a whole band before he raps with superb dexterity over a beatboxed rhythm, moving from verse to verse with seeming limitless ease until Wretch 32 joins him, the song stretching out to some 20 minutes - even though it barely feels like it - as Ed then invokes the tale of West Side Story's Sharks and Jets for a sing-off between right and left halves of the arena, both finally brought together at the end, with a dash of KRS-One's Sound of da Police thrown in for good measure. His rise to fame might have been suspiciously sudden, but on this sort of scintillating form there's little doubt that he deserves all that's come his way.