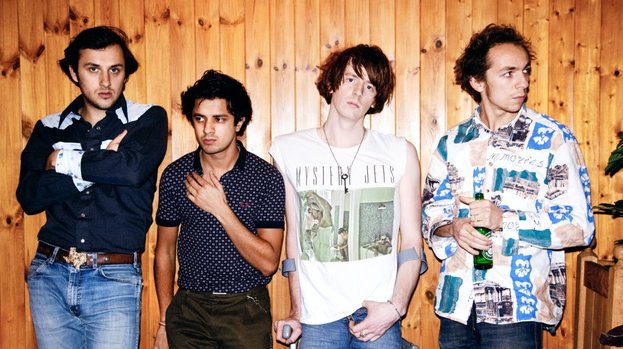 It's always been a bit of a mystery to me why the Mystery Jets aren't much bigger than they are, so wide should their appeal be.
Not that it matters so much this Friday evening, their spiky indie-pop so blissfully catchy that every song this appeared to inspire a bit of a singalong – as well as plenty of pogo-ing – over at the Main Stage.
Half In Love With Elizabeth was just one of many numbers to get the crowd waving their arms aloft in the air as though they didn't care (not even with some ominous specks of rain spitting down upon them, it seemed).
Their new single nonchalantly introduced (with a bit of a wink) as Greatest Hits bounced around merrily, like Blur's Coffee and TV on uppers, and it was all in all a rather nifty set perfectly pitched for its festival surroundings, chirpy older numbers such as Two Doors Down rubbing up nicely against the more recent pickings from this year's fifth album Radlands.
Talking about their fifth album is rather deceptive when you consider that lead vocalist Blaine Harrison is still just 27. "RockNess, are you ready to dance?" he asked in somewhat rhetorical manner as they bounded through their final song, leaving the baton to be picked up by The Drums. (Metaphorically speaking – the Olympic Torch doesn't arrive here until tomorrow afternoon, don't you know.)
It's difficult to describe RockNess's Arcadio UFO venue-cum-installation using a limited word count. An open air monolithic structure with six speakers – placed some 30 to 40 feet away from the centre – all blasting thumping dance music inwards, all I can say for certain is that to stand within its confines leads feels vaguely hypnotic. (Even in the misty, vaguely eerie evening-time gloom.)
With Glasgow's Soma Records in charge it was always unlikely that any stray interlopers were to be let behind the decks, and true to form Animal Farm appeared (from a shortish stay) to be right on the money, attracting plenty of dancing on the UFO's straggling tentacle platforms with some booming, hard-hitting techno. With Claude Von Stroke and Dave Clarke to follow, it should be quite the night for those blissed out enough to ignore the slightly nippy temperature.