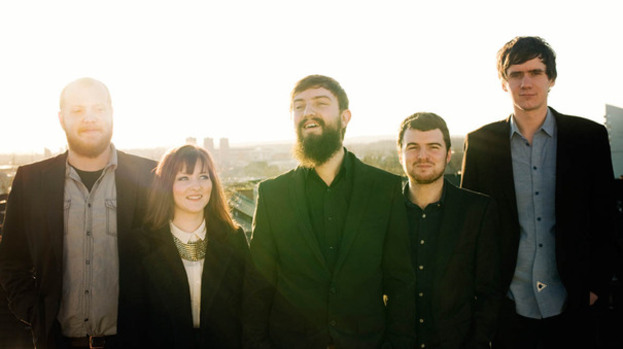 There's a joyous rush of festival-goers towards the Main Stage in the minutes preceding Admiral Fallow's opening set, the group arriving at 5pm on the dot.
(Meanwhile I'm trying to think of a suitable rhyming word to make for a catch headline. The top contenders were, in no particular order: 'Admiral Fallow They Ain't So Shallow' and 'Admiral Fallow Are Better Than Marshmallow'. Soon after my head was in my hands, as I came to a brutal realisation concerning the cost-versus-value ratio for my journalism degree.)
They may be the first band of the day, but the sound was excellent from the first note, staccato bass booming from the speakers during opening number Subbuteo, the solid percussion paving the way for an avalanche of sweet, winding instrumentation, which all reached a rather blistering crescendo by the indie-folk sextet. (The type of which you'd imagine unreachable while a clarinetist is taking centre stage.)
Then it's on to another older number (as much as any can be when the band's only just released second album Trees Burst In Snow), a stirring These Barren Years, before they launch into bracing new single The Paper Trench.
(At this juncture I realise it's going to be difficult to continue the review without reusing 'bracing' or 'stirring' to the point of tedium - given the uplifting nature of the majority of the band's tracks - so instead of that, you yourself are encouraged to liberally sprinkle those adjectives over this write-up as you see fit. I'm sure you won't go far wrong.)
With newer tracks such as Isn't This World Enough?? and Guest of the Government, Admiral Fallow continue (and indeed significantly strengthen their canny knack for combining catchy, hook-laden melodies with terrifically adept, touching lyricism, front man Louis Abbott's vocals captivatingly complemented by those of Sarah Hayes.
The 40 minutes are over in a flash, rounded off by a rousing Old Balloons, which clicks midway into higher tempo and inspires from stupendously drunken dancing by one dolt in front of me. That single moment by itself probably doesn't count as 'job done', but the impressively large crowd (especially for first thing on a Friday) and enthusiastic reception should be indication enough that Admiral Fallow's spot on the Main Stage is unlikely to be a one-off.