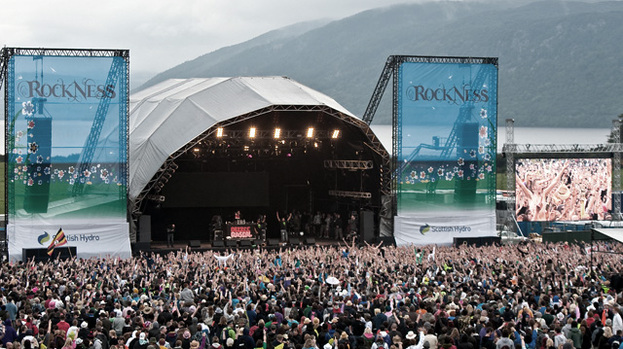 With its setting and positioning pretty much exactly the same as before, it feels almost as though we've never left RockNess from the previous year. Ah, if only!
However, even if we are (slightly) wrinklier and more weathered than before, the good news is that there's a whole new set of fantastic acts for those at the Highlands festival to look forward to.
In 2011 we had Kasabian, The Chemical Brothers and Paolo Nutini headlining, with other highlights including Emeli Sandé, The Cribs and an amazing Beardyman. (Check out all our reviews from that year.)
This Friday is set to kick into gear with a very welcome Scottish flavour when Admiral Fallow take to the Main Stage at around 5pm.
The Glasgow folk-indie band have been attracting ever more acclaim over the past few years, with second album Trees Bursts Into Snow only released a couple of weeks ago but already looking as though it'll make many critics' 'Best of 2012 lists'. They'll be sure for a great reception when they take to their places in front of thousands of fans in just a couple of hours.
Thankfully the weather is still dry in Inverness at the moment - though best to cross fingers and hope for the best, as conditions are a bit gloomy overhead. Still, it looks as though it may just hold off - given that RockNess usually brings out the sun we'll remain faintly optimistic. (Got to be in good spirits the first day of a festival, surely?)
Whatever happens, festival-goers look cheery and still fresh-faced, so there should be plenty of fun to be had before Mumford & Sons take to the Main Stage for their headline slot, who shall hopefully imbue their set with enough energy to overcome any snarky accusations that they're part of the 'Beige Wave'.
But could Ed Sheeran steal their thunder over in the Goldenvoice Arena? And can anyone possibly compete with peerless 'Baron of Techno' Dave Clarke over in the spectacular-looking Arcadia UFO installation? We'll just have to wait and find out - and for those not on site, we'll be bringing you all the latest news and reviews here at stv.tv/rockness. If it does bucket down, you can thank us later...