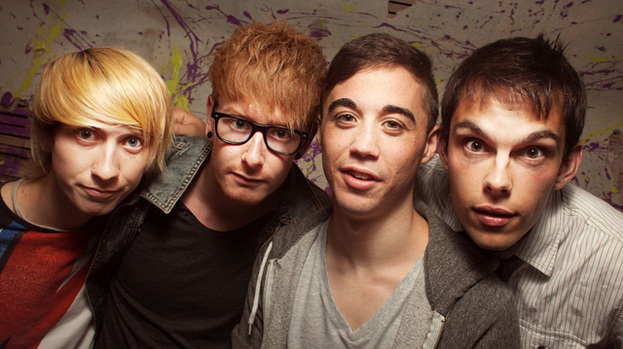 In May last year up-and-coming act Miniature Dinosaurs hosted their very own five-a-side football tournament for Scottish bands in their hometown stadium, belonging to Stirling Albion Football Club.
The organisers made it to the semi-finals only to be beaten by the eventual winners, We Were Promised Jetpacks. (STV's Michael MacLennan played in a press team at the event, and while he says he can't recall how exactly they crashed out, he is still somehow "110% certain" that they hard done by at the event.)
With the event hailed as a success it has now been announced as an annual fixture, and this year's tournament will take place on Saturday June 16, again at Stirling Albion FC Ground – with the final being held on the main pitch.
It has just been confirmed too that We Were Promised Jetpacks are coming back this year to defend their title, while well loved Scottish DJ and champion of new music Jim Gellatly will once again be the tournament/stadium announcer and commentator.
Miniature Dinosaurs' vocalist Barry Maclean explained: "We decided that the best format for the competition would be to invite a completely new set of teams, with the exception of the previous year's winners.
"We are especially looking forward to taking on We Were Promised Jetpacks again. Being honest, they smashed their way through last year's tournament! Still, we're looking to take revenge on them pipping us to the post of winning a Scottish Alternative Music Award earlier this year for being best live band..."
Bands/labels confirmed for this year include: Miniature Dinosaurs, We Were Promised Jetpacks, Aerials Up, PAWS, Vigo Thieves, Comets & Cartwheels (label), Admiral Fallow, Jack Butler, Fatherson, Instinctive Raccoon (label), Fridge Magnets, and a Twilight Sad/Unwinding Hours/French Wives/Holy Mountain super-band/team.
People who read this story also read