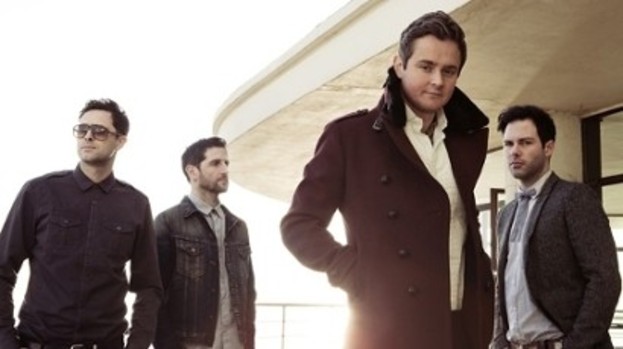 More laid back than Luke, boys of the moment Zulu Winter kept indie interesting, and a wilting crowd cool at Glasgow's O2 Academy last night.

The Keane support band are a hot ticket of the moment, with the likes of Zane Lowe and Steve Lamacq firmly behind them. Releasing their debut album, Language, only just last week, the tropical temperatures in the venue were just the location for the band who had their single, We Should Be Swimming, played on Lowe's show as 'Hottest Record In The World'. Shame that title wasn't awarded with another sort of fan that would have been extremely useful last night...

With an angular indie sound and underlying electronica, the band fit a niche specific enough to get the in crowd onside, whilst simultaneously infiltrating the charts. Singer, Will Daunt's falsetto tones, alongside the happy jangle of the band, are more perfect for Summer than a multipack of Fabs. They have a familiarity in their serene sound , pulling the Keane crowd on side and winning an abundance of Dad rockers over with their appeasing tones.

Closing with current single, Silver Tongue, there were already obvious fans in the venue, with clusters of karaoke and shape pulling spreading rapidly. Part soothing, part party, with upbeat choruses, this is a band that should ensure sunshine on the festival circuit, regardless of the weather.

Playing in front of a hippy sunrise, pop rockers, Keane, had fans singing along to theatrical opener, My Shadow, from the first line. (That's vocal line rather than the stuff that put their frontman in The Priory in 2006.) The well documented guitar band, without a guitar, flourish a guitar in this track with singer, Tom Chaplin on dual duties. At least this halted his later leaping around the stage, which was surely a health hazard in the present climate.

Keeping fans smiling, Nothing In My Way turned into a mega anthem, the crowd in full song and end of show spirits, despite the four piece having only just begun. Suiting the theatre style venue more than an arena as they've played in Glasgow previously, the band cannot believe the crowd reception. It's no wonder really, when in some circles they're hated more than Hitler.

Bringing an interesting breed of fans together in the tour of their latest album, appropriately titled Strangeland, I doubt there are many shows where you'd find a woman nearing pension age, waving two glow sticks in each hand (yes, that enthusiastic) like she's just won house in bingo.

Fuelled on football hooligan chants from fans, that sound more like they belong to Roy Keane, and with moves that looked like they'd been borrowed from Freddie Mercury, the show immersed best known tracks with those from their new album. The band kept the crowd elated, though it was tracks from their debut that stole the show.

Somewhere Only We Know, Bedshaped and Is It Any Wonder propelled the sweat drenched crowd to the finishing line with one final sing along from Crystal Ball.
The fans were perhaps more interesting than the band, though Keane were up against it with this lively bunch. If it was a glimpse of things to come, T in the Park are certainly in for a treat when Keane take to the stage in July.

People who read this story also read