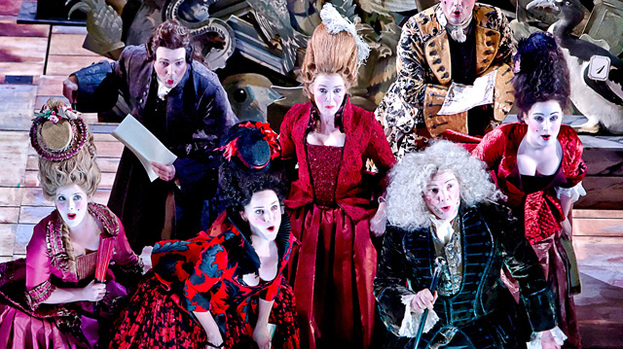 Scottish Opera has today announced that it is to mark its 50th anniversary with 11 major shows, including eight new productions, four world premieres, five collaborations, and 133 performances in 63 venues.
In a season of new productions, highlights include Mozart's The Magic Flute, for which director Sir Thomas Allen and designer Simon Higlett return to the company following their recent work on The Marriage of Figaro and The Barber of Seville.
Massenet's Werther comes to the Scottish stage for the first time since 1986 in a new production directed by Pia Furtado, with Hungarian mezzo Viktoria Vizin and American tenor Jonathan Boyd in the lead roles.
Marking the 200th anniversary of the composer's birth, Scottish Opera returns to Wagner's work for the first time since 2003 with a new production of The Flying Dutchman, directed by Harry Fehr. Baritone Peteris Eglitis, known internationally for his Wagnerian roles, is The Dutchman.
Its general director Alex Reedijk said: "This is a momentous year for Scottish Opera; for 50 years the Company has been dedicated to bringing imaginative opera productions to the very doorsteps of the people of Scotland.
"This anniversary season celebrates our unique position in the world of opera, with a powerful combination of high quality opera, new productions, nationwide touring, world premieres of newly commissioned operas and successful education initiatives."
Scottish Opera is also collaborating with The D'Oyly Carte Opera Company – returning to the stage for the first time in over a decade – in a new co-production of Gilbert and Sullivan's The Pirates of Penzance, conducted by D'Oyly Carte Music Director John Owen Edwards, with Martin Lloyd-Evans directing.
And, as it marks its 50 years, Scottish Opera is presenting four new operas, three of which are world premieres, at the Edinburgh International Festival, marking the culmination of a five-year programme to develop the skills in Scotland to create new opera, Five:15 – Operas Made in Scotland, which saw Scottish Opera premiering 15 new short operas in 26 sold-out shows between 2008 and 2010.
The Lady from the Sea with music by Craig Armstrong and a libretto by author Zoë Strachan is a co-production with Edinburgh International Festival. Clemency reunites composer James MacMillan and poet Michael Symmons Roberts in a co-production with ROH2 that was first presented in London in 2011. A double bill, co-commissioned and co-produced with Music Theatre Wales, features In the Locked Room for which composer Huw Watkins teams up with librettist David Harsent; and Ghost Patrol, which sees composer Stuart MacRae and crime-writer Louise Welsh coming together.
It is also a season of anniversaries and, as well as commemorating 200 years since Wagner's birth, Scottish Opera is joining the celebrations of two other great composers. A new production of La traviata directed by Annilese Miskimmon marks the 200th anniversary of Verdi's birth.
In the 2012/13 season the company is embarking on an unprecedented tour of more than 50 locations across the nation with La traviata (in both piano and chamber orchestra accompanied performances) and Opera Highlights.
This tour, combined with the company's performances in the cities of Glasgow, Edinburgh, Aberdeen and Inverness brings a Scottish Opera performance within a 30-minute drive of 90% of the Scottish population. Its eighth annual collaboration with The Royal Conservatoire of Scotland marks Britten's centenary with a production of A Midsummer Night's Dream, performed by student singers accompanied by the Orchestra of Scottish Opera.
Celebrations start on June 5, as Scottish Opera marks the anniversary of its first performance with a concert of Mascagni's Cavalleria rusticana and Leoncavallo's Pagliacci at Glasgow's City Halls. Conducted by Music Director Francesco Corti, and featuring the Orchestra of Scottish Opera and chorus, it stars Italian soprano Antonia Cifrone and tenor Francesco Anile.
The orchestra of Scottish Opera leaves the pit to take centre stage in concerts under the baton of music director Francesco Corti, in the restored Georgian church St Andrew's in the Square, Glasgow, and in Paisley Abbey which celebrates its 850th anniversary in 2013.
Its commitment to building new audiences continues with an extensive programme of free events for 2012/13, including Opera Unwrapped, hour-long tasters of mainstage productions, and A Little Bit of..., lively 20-minute versions of The Magic Flute and The Pirates of Penzance.
Three new young singers will join the Scottish Opera's Emerging Artists programme (run in partnership with the Royal Conservatoire of Scotland) which gives graduate singers the opportunity to work with the company, giving them performance experience to help them launch their careers. This season's artists are tenor Rónan Busfield, mezzo-soprano Katie Grosset, and baritone Andrew McTaggart.
The company's education and outreach activities continue both nationally and internationally. Alongside long-running core activities such as touring to Scotland's primary schools, there are new initiatives. Last season's BabyO is joined by its bigger sibling SensoryO, a new interactive show for toddlers of 18 to 36 months.
The autumn sees a further world premiere, in the form of children's opera The Elephant Angel, by composer-in-residence Gareth Williams, who is working with writer Bernard MacLaverty. And Scottish Opera Connect enters its third year, giving aspiring 14 to 21-year-old singers and orchestral musicians the opportunity to work with a range of opera professionals to gain performance skills and experience.
For further details visit scottishopera.org.uk.
People who read this story also read