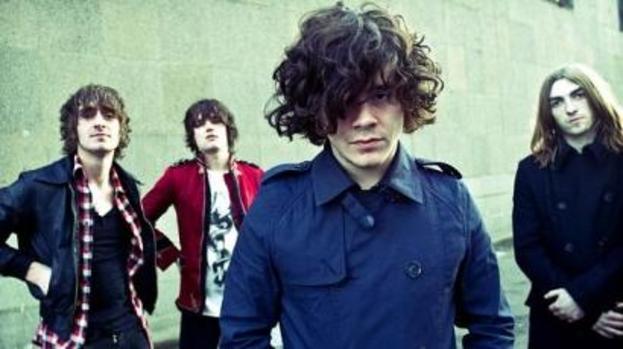 The View are still on fire, regardless of an intimate venue, and only a handful of golden ticketed fans. Six years after their first release, the call that precedes them remains strong with no signs of burning out. Chanted with venom until the Dundee party boys took to the stage, Cottiers, an old theatre in Glasgow's West End, played host to the exclusive preview of their fourth album.

Appropriately christened, Cheeky For A Reason, the party boys were so close to fans that it was difficult to see much more than a Falconer curl from anything more than four rows back. With the Scottish media out in force, and fellow Scottish outfit, Kassidy in the audience for support, Dryburgh's finest fugitives kicked into the happy-go-lucky stomp they're known for, with Grace from last year's release Bread And Circuses.

Welcoming the crowd before delving into a new track from their album with a similarly boisterous feel, negative reports of The View in the press have ceased as they've moved further from their teenage years, though their need for subtitles remains.

Bantering with the crowd into Underneath The Lights, where their heritage is displayed proudly, the four-piece are still the rogues that the fans love, though from their appearance tonight, and sedate on stage antics, they seem to have matured. Either that or they've been threatened with the naughty step.
Moving onto Bunker from their new release, "A bunker where you keep stuff in the kitchen, ken. Who's goat bunkers, eh?", this track has radio appeal with a hooky chorus and sing song guitar. A tale of keeping their feet on the ground and settling down, it sounds like the boys have finally washed those Same Jeans, and about time too.

With their ongoing cheeky chappie banter between tracks, Kyle admires the venue and tells fans that it's good to be back, not that they've really been gone for long, with their last album toured only late last year. The boys who never seem down, chemically enhanced or otherwise, continue to race through fistfuls of fast-paced tracks about keeping their life in tact and having fun whilst they do so.

Sticking to pop structures and stomping choruses, The View have evolved to some degree for this release, though their roots remain prominent. One track with interesting 70's guitar seemed the furthest removed from previous work, though the most likely nod to Fleetwood Mac, who were mentioned when Falconer stated Cheeky For A Reason was, "Fleetwood Mac's Rumours done by The Clash".

Maintaining bull in a china shop momentum, with sing along appeal and bounceability, The View are back to recreate the buzz that should see them break back into the charts.
People who read this story also read