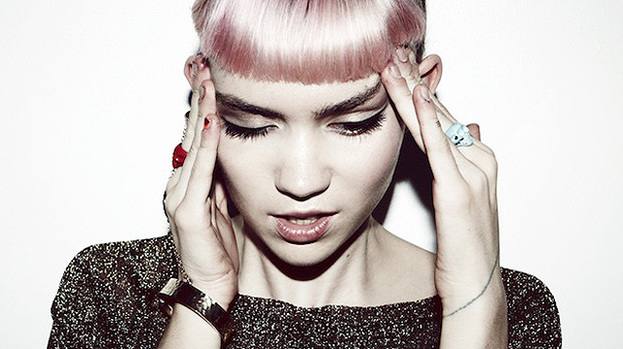 Grimes had already sold out The Berkeley Suite – a recent hipper-than-thou addition to Glasgow's list of music venues – long before her appearance on Jools Holland in April had introduced her to a whole new (more mainstream) audience, lending last night's gig an extra sense of occasion.
I walked in slightly late for support Tonstastssbandht. Though the two-piece's loose-limbed psych-rock splurge may have gained more traction for those present during the entirety of their set, from the final 10 minutes or so it seemed indulgent and flatulent – though a disarming end in a glidingly melodious harmonic a cappella hinted at an intriguing further facet to their sound.
The venue was suitably packed as Grimes arrived onstage, with tension palpable, the crowd anticipating one of those special, extremely rare moments of experiencing an artist on the cusp of stardom – and at the peak of their powers – playing in an extremely intimate setting.
It turned out not to be quite like that, though, much as it was still a fun show. Grimes (aka Canadian Claire Boucher) excels at a beautifully ethereal strain of electro-pop, her delicate vocals wisping over the top and looping over layers of arpeggiated synths, an early airing of superb, enchanting breakthrough single Oblivion drawing the loudest cheer of the night.
There is something mesmeric about seeing the charming Grimes onstage as well, replete with blonde hair and distinctive pink fringe, bobbing about energetically and requiring no other musicians as she variously sets off samples and handles all keyboard parts and other mixing duties that are required.
It's like seeing one of those great male-female electro-pop duos of the 80s, except in an alternate universe where Annie Lennox realises Dave Stewart was a douchebag all along and that can do things far better by herself. (Or like La Roux except less angular and irritating, and much more haunting and interesting.) At only 24 there's definitely some spectacular potential there.
But something doesn't quite click overall. Perhaps it's the sound (Grimes asks the sound guy a few times during the show about the keyboard level, and queries the audience about whether it's loud enough out front), or the fact that she's wrestling with a new stage set-up and thusly has a limited amount of tracks at her disposal.
That leads to one of the most anticlimactic ends to a gig possible, as Grimes declares she's ran out of songs she can play, but maybe she can DJ, so then puts on a pop track but then exits the stage (as everybody looks around a bit confused at each other).
However, it's still a good show – Genesis from this year's album Visions another highlight, as was a "very sketchy but special" new track – and Grimes can comfortable sit alongside the likes of The Knife as those who can blend pop melodies with a more artistic bent while not being too pretentious or precious about it. For those who missed her this time around, she performs at Glasgow's Arches at the end of August, and it'll be fascinating to see the continued development of one of the music scene's most intriguing new artists.