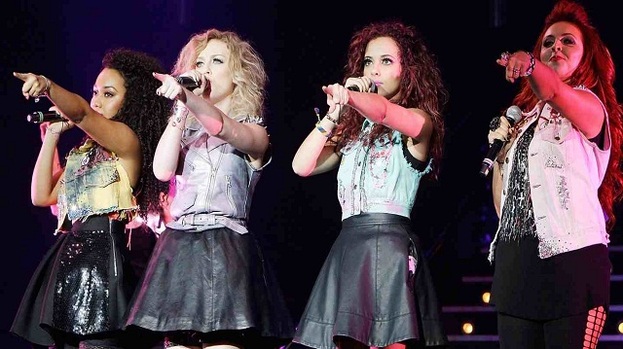 Last night saw two very different generations of music fans gather Xcitedly outside Glasgow's SECC – the slightly more mature crowd heading to the Clyde Auditorium to enjoy the dulcet tones of Sting (read the review here), while teeny boppers, parents and the odd gaggle of excitable girls post twenty took their seats for the spectacular that is The X Factor live tour – and it didn't disappoint.
Falling into the post twenties category, I wasn't sure what to expect from the show. I love it on television, but would it be as exciting on stage, minus the judges bickering and the tension of the vote (not to mention Gary Barlow to drool over)?
As soon as legendary voiceover artist Peter Dickson's familiar, strangely comforting, tones boomed out, it was impossible not to get caught up in the frivolities.
First to perform was rock chick and comeback kid Amelia Lily who belted out Christina Aguilera's Ain't No Other Man with attitude and style, proving the perfect opener for the show. To steal a popular phrase, "girl you owned that song". With a confidence far beyond her 17-years, it's good to see the X Factor rollercoaster ride hasn't knocked Amelia's drive and enthusiasm.
The blonde beauty also wowed with her "favourite song" from the series, TPau's China in Your Hand and her comeback track The Show Must Go On.
Boyband The Risk was certainly met with approval from the ladies in the crowd, especially when Scottish member Andrew Merry thanked the home fans for their support, but their performance of Night to Remember wasn't exactly memorable and I don't think One Direction, JLS or The Wanted will be too worried about the competition.
There's no doubting flame haired Irish singer Janet Devlin has talent and an interesting voice but she seemed a little out of place as she stood on the huge stage singing Sweet Child of Mine, as beautiful as it was.
I think she will be fantastic in the future but a much more intimate venue will allow her to flourish.
One star who shone live was runner-up Marcus Collins, who had the screaming crowd eating out the palm of his Liverpudlian hand.
The cheeky chappy oozed charm as he delivered a fun-filled performance of Moves Like Jagger, complete with sexy dancers. Marcus looked completely at ease on the large stage, as though he had been performing in front of thousands for years, and the crowd seemed to love his energetic delivery.
As a White Stripes fan, it could be viewed as sacrilege to cover Seven Nation Army but Marcus' version works – I even heard my music snob dad quip "he's actually quite good at that" when the former hairdresser performed it on Dancing on Ice the other week. Praise indeed let me tell you. Live, his soulful voice doesn't falter and adds a different dimension to the iconic track.
My favourite performance from Marcus however was his medley of Reet Petite and Higher and Higher – covering these soul classics is where the 23-year-old truly comes into his own and the direction I hope he continues to go down.
The crowd went wild as 'marmite' singer of the group Kitty Brucknell exploded onto the stage in the weird and wonderful style we came to know and love (or loathe) during last year's X.
Judging by the deafening screams for Miss Brucknell, Glasgow was definitely in the love camp as Kitty spun round on a giant wheel while she performed Sweet Dreams.
The Gaga girl was obviously loving every moment of being on stage and has a powerful voice, although as Gary Barlow pointed out, her dance skills are somewhat lacking.
That didn't seem to matter though as who needs moves when you have a platform underneath your skirt that shoots you in the air, towering over your fans, as you sing Edge of Glory?
Craig Colton was the ballad boy of the night as he delivered a beautiful version of Christina Perri's Jar of Hearts.
In the second half he showed off his vocal skills with a version of Adele's Set Fire to the Rain, although the military style jacket he was sporting was a little Cheryl Cole gone wrong!
Misha B arrived on stage determined to show she was Queen B as she sat on a throne. She kicked off with another Adele hit (think of the royalites) Rolling in the Deep, but it was the feisty singer's version of Proud Mary which really got the crowd going, with young and old shimmying to the Tina Turner hit.
One of the highlights of the night for entertainment value was lovable overs singer Johnny Robinson who performed Kylie hit Can't Get You Out Of My Head, complete with the oriental theme that featured on the show.
Johnny brought the fun Factor to the live tour and received one of the loudest cheers of the night.
When he emerged for his second performance, he showcased his unique, strangely captivating voice, when he sang That Ole Devil Called Love – a really fantastic performance.
Although unlikely to set the charts alight, I hope Johnny's sparkling personality affords him opportunities in the spotlight. One thing's for sure, Scottish fans love that man!
Finally, it was time for The X Factor 2011 champs, Little Mix, to shine, and they did just that.
Perrie, Jade, Jessie and Leigh Anne burst onto the stage through trap doors, dressed in a mixture of leather, denim and high-tops.
The girls looked and sounded every inch the perfect girl group as they kicked off with You Got The Love, before being lifted from the stage on swings as they delivered a heartfelt performance of Christina Aguilera hit Beautiful.
The 'Little Muffins' clearly have a strong bond which is lovely to see but for me, Perrie is the standout vocalist of the group.
Moving on from the ballad, the girls showcased their diversity by delivering a rousing rendition of Nicki Minaj's Super Bass – although I struggled to get the thought of the little YouTube sensation girls, Rosie and Sophia, performing this out of my head at this point.
Little Mix then flew over our heads onto a stage in the middle of the crowd as they sang Katy Perry's ET, before launching into En Vogue's Don't Let Go as they spun around on a turntable. There's no doubt the feisty foursome are going to give the likes of The Saturdays a run for their money as their voices, attitude and image really struck a chord with the delighted crowd.
They finished with debut single Cannonball and seemed completely blown away by the reaction from fans, as they thanked them for making their dreams come true.
The show was rounded off in spectacular style as all the finalists took to the stage to perform a medley of pop hits – the perfect way to finish off what was ultimately a gigantic, all-singing, all-dancing pop party.
Ok, so the X Factor live will no doubt be viewed by some as nothing more than a glorified karaoke night, but it was fun for all ages and the perfect opportunity to see stars of the future belt out some of the world's most-loved hits. There was glitter, fireworks, flying singers and, well, Johnny Robinson – what's not to love?