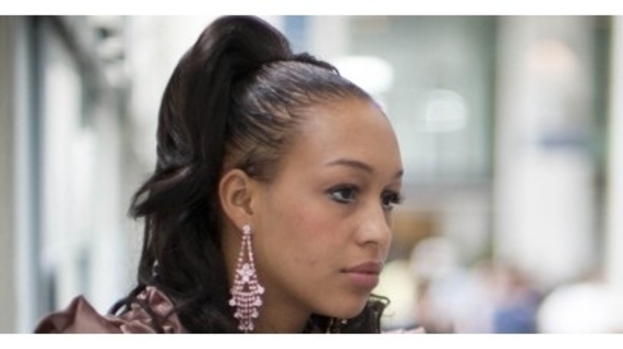 From the womb of X Factor lies another runner up, but last night Rebecca Ferguson proved runners up don't necessarily always come second. Being beaten to the major deal by Matt Cardle has not harmed the 25-year-old Scouser, who this week embarked on her first sold out solo tour, Heaven, after the success of her top ten debut album.

Looking like she really is living in her own Heaven, the mum of two sparkled in a gold fishtail dress, though the fear with such extravagant attire is that the dress could perhaps outshine you. With Rebecca's soul diva voice and naturally warm tone, you'd think that would be difficult, though tonight, although she had fans behind her, I'm not so sure.

Co-writing her album, stating that she wanted to be seen as a credible artist, Ferguson's own material lies embedded in years gone by with influences of motown prominent. Her vocal is naturally rich, backed by a five-piece band and two incredibly animated backing vocalists. After the dramatic intro of Fighting Suspicions, the lights go up to uncover the stunning starlet, though her big reveal fails to have much impact as she lingers closer to the stage rear and is somewhat dwarfed by her band and her surroundings.

Vocally, her performance is flawless, though the soul-diva vocal, embedded in attitude, is not backed by the same confident persona. Slinking around the stage with little eye contact and interaction with her band, who again, I can't quite decide if they're laid-back or lacklustre, she has rabbit in the headlights discomfort. Most fans seem to forgive her and find this endearing, with broad Glaswegian voices of encouragement shouting throughout the performance. "Go on hen!" is a particular favourite tonight.

After her third track, Glitter And Gold, Feguson finally addresses the audience, with her broad accent. Thanking excitable fans briefly, the pristine princess has a contrast in talking and singing voice big enough to get her in the same club as other ex-X Factor alumni, Stacey Solomon.

The performance grows slightly in confidence with audience favourite Shoulder To Shoulder, though it's when Rebecca reverts back to her X Factor days with covers, that she begins to spring to life and full lung capacity. Kings Of Leon cover Knocked Up has full audience backing with her band also favouring the rockier number.

Ironically, the star shines brightest in the dark, accompanied only by piano and the close harmonies of her backing vocalists. Performing A Change Is Gonna Come, the song she sang at her first audition, it would seem she feels more comfortable without the sold-out auditorium in sight, her true potential as an artist blatant as she seamlessly meanders through the R &B classic.

Addressing the audience more between songs as she nervously explains her inspiration, new single Too Good To Lose has the X Factor mad crowd whooping, with debut single Nothing's Real But Love receiving a standing ovation. Before leaving the stage our hostess thanks fans and explains she's nowhere near the performer she'd like to be yet. I'd stongly agree with this, where her true potential as an artist could really be found if she can match her natural vocal talent with her performance skills. The Glasgow audience don't agree, however, and remain more vocal than Ferguson right until the very end. With one fan getting the last word, "We beg to differ," is the most confident statement of the night.