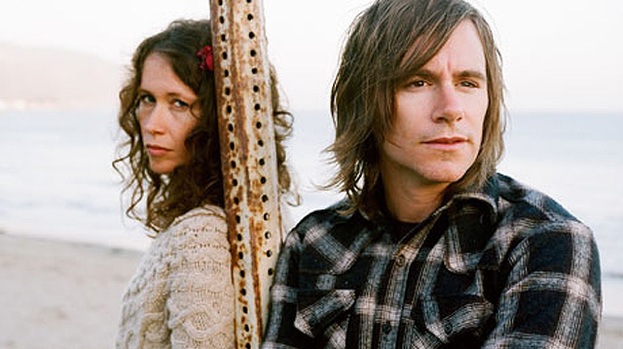 By Steven Graham
Despite it being the day of our National Bard Rabbie Burns, Celtic Connections chose to celebrate another highly influential lyricist of his time, American singer-songwriter Woody Guthrie.
The night started off with Guthrie's granddaughter Sarah Lee and her husband Johnny Irion performing one of their own songs Never Far From My Heart - a lovely ballad that set the tone for the rest of their performance.
Wholesome, sweet and funny too, the twosome combined beautiful vocal harmonies that conjured up a young Johnny Cash and June Carter. The audience were singing along by the fourth number Will You Get Left Behind, and the highlight was a spine-tingling a cappella solo by Sarah Lee, written by her Grandfather and set to a melody by Billy Bragg.
What would the second half have lying in wait; surely it couldn't be as good as this? Well, it wasn't.
There is certainly something intriguing about four gruff looking, bearded men taking to the stage to sing about love and protest. Jay Farrar, Anders Parker, Will Johnson accompanied by multi-instrumentalist Mark Spencer did a great job of putting Guthrie's lyrics to rhythm driven melodies and kept the emotion of his songs alive.
However, they lacked stage presence and it took them until the fifth song to actually address the audience and when they did it was very short - such a contrast to the act that preceded them. To the untrained ear the way in which many of the songs were presented would have sounded repetitive. I think this took its toll on the audience, as many started to leave.
Whilst no-one can fault the musicianship, a gig like this would have been better suited to a smaller, more intimate venue than Glasgow's 3000 capacity Royal Concert Hall.