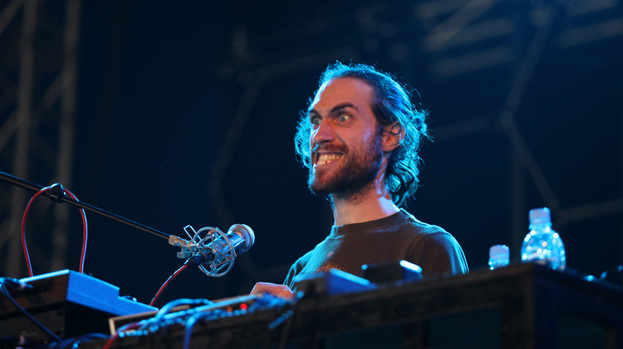 A mournful-sounding Scottish indie epic with the singer apparently decrying Nessie giving him crack? Such brilliant nonsense can only have emerged flailing from the ADD-addled mind of one supremely talented man holding court at the RockNess Golden Voice Arena this Sunday afternoon.

Yep, it's Beardyman, and he's the best beatboxer and vocal contortionist you're ever likely to see, twisting and turning sounds within his mouth to somehow replicate anything that he wills them to.

On this occasion he's relying on some well used samplers to record and subsequently augment his sounds, creating tracks and harmonising with himself as the man-made beats fly forth, Beardyman able to rap seamlessly or sing flawlessly over the top. In essence it's a DJ set, except with every element within his own control.

His dexterity knows few bounds, a rendition of Fatboy Slim's Renegade Master soon metamorphosing into Ol' Dirty Bastard's rasping Shimmy Shimmy and then Jay-Z's 99 Problems, his mimicry so masterful that later on he replicates the seductive smoothness of Mr Anchorman himself Ron Burgundy with little apparent effort. Since the last time I saw him the vocals have taken on an increased confidence, perhaps a result of the release of his debut album. Whatever it is, it's another step closer to musical perfection, and so it should be hard to know whether to love or hate him for his boundless skills. (It isn't of course.)

"Everything you're hearing is being recorded live by microphone..." he explains during a brief moment of respite, which is hard to believe given the seamlessness of what he's able to achieve with nothing more than a microphone and a few attached electronic implements that allow him to form his own personal orchestra. Buzzing basslines, banging beats, ear-shattering falsettos and octave-bounding house diva melodies; you can see it all emerge from his mouth, except even then it remains like the best magic trick you've ever seen.

It puts other DJs to shame: actually, it puts all other musicians to shame, and even more so the lazy audience, who only have to nod their heads, perhaps jiggle along a bit and blithely comprehend such free-flowing genius. It's impossible to match, so instead best just to wax lyrical about a talent several thousand leagues beyond his peers, and enjoy the moment. Right now Beardyman is without equal, and watching it in person is also an unmatched experience.
ROCKNESS 2011 ON STV.TV