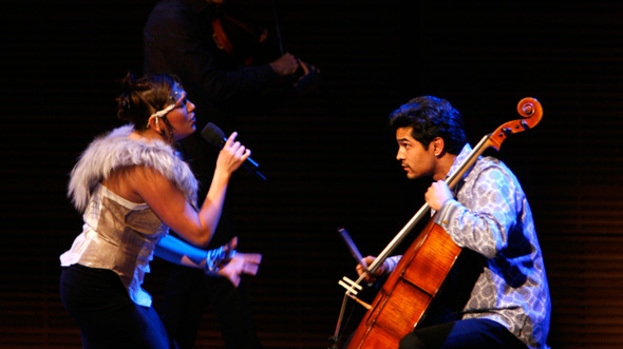 A far more experimental night than Friday's Opening Concert, Saturday evening's show North-East-North at the Old Fruitmarket began with a nice dollop of unhinged lunacy thanks to the penmanship avant-garde composer John Zorn.
The fearless Kronos Quartet leapt into the various seemingly random squeals and squalls with relish (aggressive and hilarious flipping over of the sheet music pages also seemingly included), the frantic nature of proceedings reflecting nothing so much as a Looney Tunes cartoon and ended with the four members all swatting their bows at the air as if at imaginary flies, provoking laughter in the Old Fruitmarket and then no small amount of applause at the sometimes silly and always invigorating start to proceedings.
Finnish kantele player Ritva Koistinen was then welcomed onto the stage, the delicate and haunting nature of her string instrument's slow melodies chiming beautifully with the quartet for Arvo Part's plaintive De Profundis and the tender, touching tribute To Henryk Górecki by Vladimir Martynov.
Where to move on to from there? Well – but of course! – it was time for the Kronos Quartet to welcome onstage Azerbaijan's Alim Qasimov Ensemble, a video beforehand relaying the sizeable but entirely worth challenge of getting two quite dissimilar groups to sing from the same hymn sheet.
An energy built up tangibly during the course of their fascinating set, lending a propulsion that made the final brace of numbers a complete joy, Qasimov and his daughter's superb vocals ringing out tumultuously over the racing rhythms and Eastern sounds.
Finally it was the truly inimitable Tanya Tagaq who joined the Kronos Quartet for an entire mini-set, who before and after performance was obviously delighted to be in attendance and so rapturously received by the audience, looking demure and smiling sweetly.
But for the duration of Tundra Songs, oh my! Almost impossible to take your eyes off as she took centre-stage in between the quartet, gutturally growling and moaning rapidly heavy-breathing and gyrating and crooning and then calmly narrating and at all times looking as though she was locked in some sort of trance state, the Canadian's skills in Inuit throat-singing allowing a development into something quite extraordinary as the Kronos Quartet provided swirling, engrossing accompaniment and kayak, paddle and other natural recorded sounds ricocheting around them. It was an epic sweep with which to end the night, and entirely fitting when over the course of a couple of hours the audience been exhilaratingly flung around several far corners of the globe.
MORE ON KRONOS QUARTET