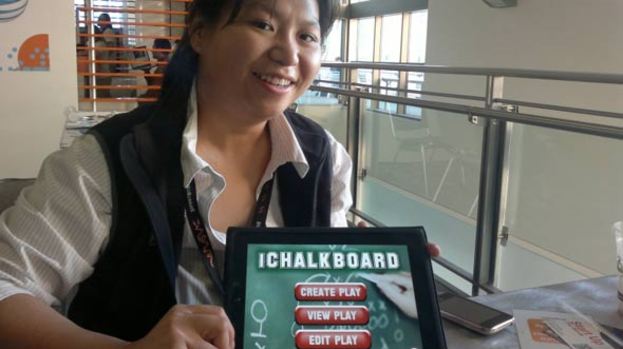 It's not just selling coals to Newcastle, as Kate Ho from Interface 3 brings an American Football coaching application from Edinburgh to America, while learning from her peers at South by Southwest Interactive.

The start-up, which is part of the incubator business programme at Edinburgh University, has previously worked on large, table sized, computer interfaces. On show at SXSW is their first Apple iPad application, iChalkpad - a animated display for managers and coaches to show tactics to their players.

Developed originally for Rugby Union, its focus has been tweaked for the US market and it's ready to be used by a number of American Football College teams. Ahead of the launch in six weeks time, Ho is at SXSW to talk to a number of sports bloggers and reporters, as well as fellow developers in the tablet computing space.

"I want to see how other developers are creating a buzz around their apps," she tells me. "Sport is also a bigger market in the US, and even bigger in Texas!"

"it's also a chance to get away from the daily grind. There's a creative vibe in the air, a huge feeling of excitement and positivity in the halls of the Austin Convention Centre.

Part of SXSW's attraction is the unique community it creates, albeit temporarily. "There are people from hundreds of different companies here, and all of them are sharing what they do, how they managed it, and how they scaled up and grew to become larger and more successful."

"People also just 'get it' when you talk about certain pieces of technology in a mobile application - I don't need to stop and explain the idea behind 'the second screen' here, leaving more time to discuss details and interesting areas to build on." (for those wondering, second screen is a computer that is used while doing something else, such as watch television on the 'first' screen).

But the best reason to attend SXSW? "It has to be the lack of rain!"
SXSW LATEST