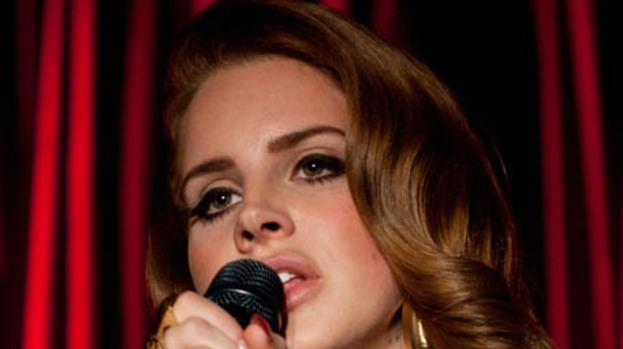 Marketing puppet or vintage-voiced old soul? Last night, Lana Del Rey, or Lizzy Grant, had Glasgow's SECC swooning to the mesmeric backdrop of old-school Hollywood glamour.
Whether true, or synthetic, the illusion was certainly complete, in the wondrously put-together occasion. Showing less of her 14-year-old alcoholic rebellious streak, dropping the cusses, and concentrating on her cinematic soundscapes, the upscaled show did not disappoint, regardless of earlier televisions performances suggesting otherwise.
Prior to her performance, the 26-year-old draped her mysterious demeanour throughout the venue with Fantasia-esque soundtracking and peacock voile sheathing palm tree shadows. Sending boyfriend Barrie-James O'Neill, of Crosby, Stills, Nash and Young wannabes, Kassidy, to warm up the crowd, the hairy Glasgow four-piece had their audience complying with a clap along, as though spurring the time machine even further back from their own retro appearance.
Amalgamating two sold out O2 Academy shows for a one night stand with a bigger stage at the SECC, the media darling turned De Vil brought out Glasgow's bohemian side, with a crowd exhibiting more flower power than Woodstock. Painting her own glitzy movie, the dazzling performance rested on a backdrop of grand piano, string quartet, and candelabras, the style and substance key to the alluring Lana Del Rey brand that's been cleverly crafted.
Peaking to a well orchestrated crescendo, Del Rey walked out on to the stage, the drama of the Hitchcock introduction dropping, as the girl next door in an unassuming white dress was revealed. Aiming to shock in her opening line, Cola, was a solitary streak of rebellion for the daddy-loving Bardot-lipped singer, who delivered her leaping range playfully, far away from the distant rabbit-in-headlight gaze that has fronted her television appearances to date.
Happily mingling with the front row, and clearly delighted at her super-sized show – graduating from the intimacy of Glasgow's Oran Mor in a year – Del Rey was nothing like the media mannequin as fervently marketed.
Mixologist to a cocktail of devastation and beauty, warmed with soaring strings, the tranquil but heavy-hearted performance scaled the tracklisting of her Paradise Edition album, whilst faded glamour was portrayed in her Hipstamatic backing videos.
A deliciously orchestrated cover of Blue Velvet had the Del Rey slow dance all over it, though a stiletto-to-the-heart sinister undercurrent remained, as she embellished her sleeve with her David Lynch influence.
Marking the opening weekend of Baz Luhrmann's much-hyped The Great Gatsby, with a teary-eyed performance of her soundtrack contribution, Young and Beautiful, Del Rey delivered dark verses that her warm string backing boosted into choruses of broken Hollywood starlets.
With the audio-visual package expertly delivered, the eager-to-please songstress swelled to a grand finale of the track that set it all off, though Video Games felt somewhat empty when served next to a hypnotic and buxom National Anthem to finish.
Skipping into the crowd to sign autographs, and pose in front of a range of mobile devices at arms length, the wash of intensifying instrumental hinted at more to come, though their sudden silence prompted one wave from the enigma as she retreated back in to the shadows.
Whether genuine, or another doe-eyed doll primed for record label manipulation, Lana Del Rey's vocal talent and ability to entertain was certainly affirmed in last night's luscious set-up. With much worse things in life than an ability to trick hipsters; aren't smoke and mirrors a record industry staple?
People who read this story also read