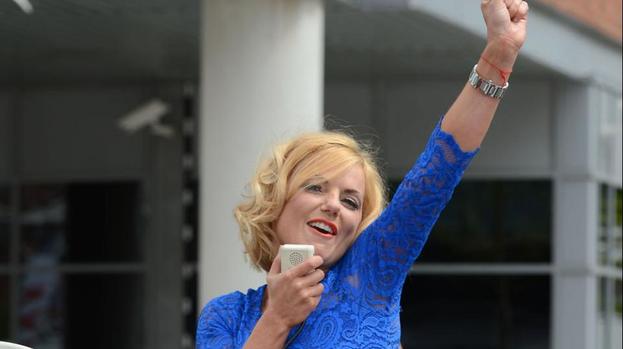 Rather than one of the top studios in London, New York or Los Angeles, Geri Halliwell has selected a slightly more unusual venue to record material for her next album – a garden shed in Wales!
Updating fans on the album's progress on her blog, the artist formerly known as Ginger Spice told them she had driven herself over to Wales on the Easter Bank Holiday weekend to work with songwriter Amy Wadge.
Geri and her new collaborator – who previously worked with Ed Sheeran – then spent a day songwriting and recording in Amy's shed, which houses her home studio.
The Spice Girl told fans: "I drove through the rolling hills of Wales to a 'ginger bread' house, and was welcomed by a sparkling woman named Amy Wadge (imagine Ellie Goulding as a mother, who plays guitar and piano) with two little angels wrapped around her ankles.
"Instantly my doubt melted, her house was cosy, full of love and memories. We then went to the back garden to her 'magic shed' (this is where she wrote with Ed Sheeran - Gold rush!)."
According to Halliwell, the experience of working with Wadge on material was 'magical'.
"We spent the day chatting and then we began to write, laugh, chat and then write more," she added. "She would play the guitar, I would sing and we had the most magical time.
"I didn't censor myself one bit, nor did she, and we wrote the most authentic songs only two women could write together."
This article is powered by Well Contented Ltd
People who read this story also read