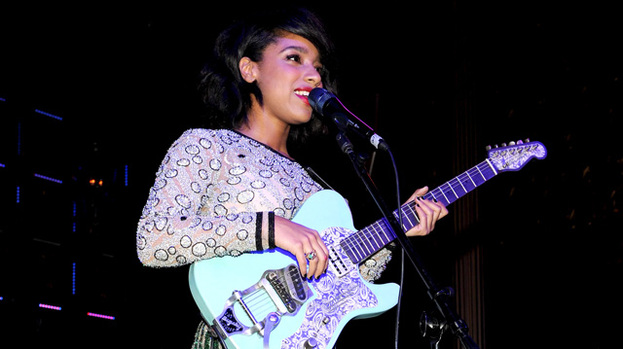 Most people feel lucky if they have acquired a credit card and moved out of their parents by age 23. Lianne La Havas, on the other hand, has Prince covering her songs and Stevie Wonder moseying along to her gigs.
Before we got to see what the fuss was about, the crowd at Glasgow's ABC found themselves slowly enraptured by Josh Kumra – the singer-songwriter accompanied only by his own guitar and a slew of deftly written numbers.
His final song – and latest single – The Answer sounded like the sort of thing that could easily be the winner's single for The X Factor 2013, though the soaring anthemry was better and more intimately displayed in stripped-down format. With a debut album readied for release, the young Kumra's unexpectedly soulful, husky vocals marked him out as an artists to keep your eyes on this year.
Meanwhile, how could you keep your eyes off Lianne La Havas? Arriving onstage clad in black and adorned with effortless charm, she is the sort of singer-songwriter that makes you feel sorry for those other singer-songwriters who aren't her, so absurdly talented and assured does she immediately reveal herself to be.
She started solo, plucking at her guitar for a delicate and beguiling No Room For Doubt (the ABC as silent as I have ever heard it), before the four members of La Havas's band joined her and clicked straight into gear, traversing tricksy melodies and emphasising the superb array of hooks liberally sprinkled through the set.
Her nearest contemporary is St. Vincent, who also wields a guitar and can find methods of articulation within songs that are both tremendously adept and wonderfully unpredictable. La Havas is more soulful, though, and tender numbers such as Lost & Found reveal that – should she choose it – mainstream success could be easily within her grasp.
Hopefully, however, she will remain as joyously playful as in the likes of the marvellous Forget, which spindles itself into a bracing multi-harmonied chorus. Slightly fluffing the final line, she honestly (and endearingly) admits afterwards: "I inhaled a bit of saliva there, if you were wondering… I'm so sorry." The audience couldn't have cared less, though probably fell in love with her another smidgeon more.
There's a sultry cover of Radiohead's Weird Fishes/Arpeggii, and after briefly leaving the stage there's an encore which culminates with latest single Elusive. La Havas expresses her wish to return soon with more material, at the moment only armed with songs from debut album Is Your Love Big Enough?. Let's cross our collective fingers that the wait won't be too long.