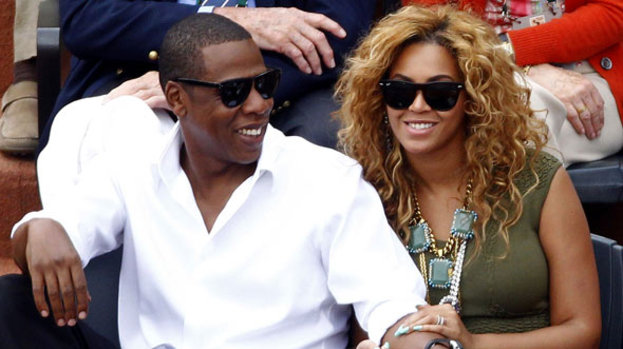 Beyoncé's rapper hubby Jay-Z was so proud of his Bootylicious wife's stunning performance at the Super Bowl at the weekend, that he organised a lavish party and expensive presents to congratulate her.
The pair, who have been married for four and a half years, are known to be one of the strongest couples in the showbiz world and Jay proved just how in love he is with his wife by spending a monstrously large amount of cash in honour of her success.
As soon as she came off stage, Bey was whisked away to an extravagant party organised by Jay-Z, where the 99 Problems rapper poured a £10,000 bottle of Armand de Brignac champagne over her and her Destiny's Child bandmates.
He's also said to have spent a further £40,000 on bubbles for the rest of the party. They better have enjoyed it at that price…
Jay-Z then pulled out a diamond encrusted watch he'd had engraved with 'Mrs Carter', Beyoncé's married name, as a special memento of her achievement, with the timepiece thought to have cost him a cool £60,000.
Beyoncé was over the moon with the surprise party," a source told the Daily Star newspaper.
"Everyone was watching as Jay-Z scooped her up for a kiss. But then suddenly he grabbed a giant bottle of pink Armand de Brignac champers, shook it up, and sprayed it over her, Kelly Rowland and Michelle Williams [Beyoncé's band mates].
"They were all laughing and dancing and didn't seem to mind getting their hair getting wet. He even soaked all of their hickory chicken wings and club sandwiches.
"The room was full of expensive champagne."
Sounds like one hell of a party, and a perfect way for Bey to mark her latest success, in what is becoming a hugely significant time in her career.
The day after her stunning Super Bowl halftime performance – which included a medley of her hits including End of Time, Baby Boy and Single Ladies – Beyoncé announced a world tour that will kick off this spring. Earlier this year she also sang The Star Spangled Banner at President Obama's inauguration.
Related articles