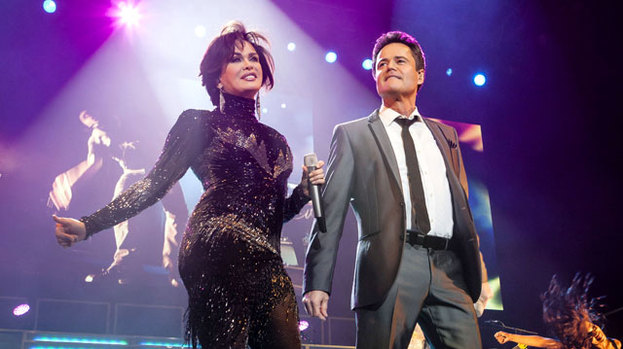 With women of a certain age screaming, Colgate smiles, true American tan and more sequins than Honey Boo Boo Child tearing up a pageant, famous sibling duo, Donny (scream now if you have to) and Marie Osmond brought their Las Vegas cabaret extravaganza to Glasgow.
Starting the all-seated, but all leaping to their feet party with It Takes Two, enough backing dancers for Broadway bounded onto the stage, weaving in and out of the squeaky clean siblings, here to celebrate their five decades in show business.
With video montages of their younger years filling a super-sized screen at the peak of the set up, the crowd of manic fans were suddenly in the closest thing to a time machine, throwing anything that they could in the air as part of their cheering process, in some cases their own offspring.
The show was taken over by Marie, and tended to move in solo segments for the remainder of the evening, with the two siblings more apart than together. With Donny only having to walk on stage to get a hot flush moving around the crowd like a Mexican wave, it was his younger sister who pulled out the most impressive moves with her vocal chords and old school entertainment values.
Strutting in to a rendition of Walk This Way with her own glittery flying M-guitar, Marie had her wardrobe designer and daughter Rachel Kreuger on hand to remove her from a pair of cowboy boots and into some 'more appropriate' glitter encrusted platforms. Throwing in some big ballgame style theatrics, two fans in just about back row seats won front row tickets and backstage passes, the 53-year-old inviting them to 'come on down'.
In this first and most entertaining section of the show, the husband of one fan, Dave McCallion, was hauled on to the stage, coaxed in to dancing and singing with Marie, and finally granted backstage passes. This man has certainly won some pints at the pub points from his wife, for his fearless Patsy Cline impression.
With a cocktail of genres making the show, Pie Jesu was performed to showcase the only sister of the Osmond clan's operatic range, her sparkling soprano pulling the crowd to their feet as quickly as a wink from her brother.
Speaking of which, Crazy Horses and a body popping dance routine had Donny requiring a seat, with some Puppy Love thrown in for good measure whilst he was in this position. Where his sister had a custom made guitar as her prop, Donny had our very own Susan Boyle who was just as sequinned as the Swarovski Crystal covered 6-string. Led on to the stage by her very own poster-pinup, and now friend, the pair sung together on This Is The Moment, the home crowd loving the appearance of their very own 'Su Bo'.
Blowing kisses to fans and pulling everyone to their feet at a wave of an arm, Su Bo didn't have much to say for herself, but gifted Donny with a tartan scarf and tie, before being guided off of the stage.
With musicals thrown in to the mix, Donny and Marie ran through another medley of songs, with the second half of the non-stop show reserved for fan favourites.
Love Me For A Reason, Make The World Go Away, and Remember When stirred up the nostalgia factor, before Donny And Marie show closer, May Tomorrow Be A Perfect Day, had fans and Osmonds alike looking tired and emotional.
It's no wonder after 50 years were crammed into a lengthy two and a half hours of non-stop action. Donny and Marie may be closer to retirement age these days, but they definitely still know how to entertain.